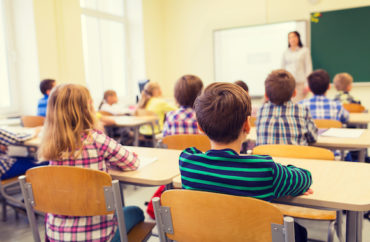 OPINION: Over the past few years, far too many American students have been taught revisionist history
For several years, not that long ago, I taught U.S. history at a public high school in South Carolina.
Believe it or not, while covering the expansive subject, we dove deeply into the issues of slavery, Indian removal, the South's antipathy to the civil rights movement, and several other less-than-stellar aspects of our nation's history.
At the same time, we also studied the many parts of our nation's past that should be celebrated.
This long list includes everything from the world-changing Declaration of Independence to America's participation in World War II, which saved the globe from the evils of Nazi Germany and Imperial Japan.
Yet, I am struck by what has occurred in the short timespan since I left the teaching profession.
Over the past few years, far too many American students have been taught revisionist history.
This revisionist history, which I began to encounter at the tail end of my teaching career, portrays America as a wicked country. It also misconstrues our nation's trials and tribulations wildly.
Many point to Howard Zinn's "A People's History of the United States" as the genesis of the revisionist history movement.
Zinn's book, which was first published in 1980, presented a radically different take on American history. In short, it presented American history through the eyes of so-called "oppressed" groups.
Yet, Zinn's book, which has been thoroughly discredited, laid the seeds for a new presentation of American history, which eventually seeped into public classrooms, especially in recent years.
Ultimately, Zinn's book transformed into an educational movement: The Zinn Education Project.
According to its website, "The Zinn Education Project promotes and supports the teaching of people's history in classrooms across the country. For more than ten years, the Zinn Education Project has introduced students to a more accurate, complex, and engaging understanding of history than is found in traditional textbooks and curricula. With more than 130,000 people registered, and growing by more than 10,000 new registrants every year, the Zinn Education Project has become a leading resource for teachers and teacher educators."
Here are a few examples of the "accurate, complex, and engaging" lessons offered by the Zinn Education Project:
Students Design a Reparations Bill: In this activity, students take on the role of activist-experts to improve upon a Congressional bill for reparations for Black people. They talk back to Congress' flimsy legislation and design a more robust alternative.

The Red Dot of Environmental Racism: A teacher looks back on her childhood to discover the meaning of environmental racism. Linda Christensen offers ways to teach about this story with students.

Plotting Inequalities, Building Resistance: High School Students Use Math to Reflect on Social Inequality: An article describing how math teachers in a San Francisco high school shed light on the ways economics and racism affect education, housing, and job opportunities.
Alas, the Zinn Education Project, launched a decade ago, seems tame compared to the new wave of anti-American pedagogy that has invaded so many classrooms in recent years.
From the New York Times' 1619 Project to the explosion of critical race theory, which has permeated many public schools, it sure seems that the trend is worsening.
Moreover, as our so-called educators push race-based indoctrination, they are abandoning their core mission of teaching America's youth how to read, write, perform math, and engage in the scientific method.
In July, for example, Oregon's governor signed a bill that suspends proficiency requirements in reading, writing, and math for high school graduates. Unfortunately, this is occurring in states and school districts throughout the nation.
Yet, I remain somewhat hopeful.
If there has been one silver lining of the COVID-19 pandemic, it is that more parents have become more aware of what is taking place in their children's classrooms.
As we have seen recently at school board meetings from coast to coast, parents are calling for much-needed change.
For me, the big question is: Will parents regain control over the nation's public schools, which their tax dollars fund in the first place? Or will radical left-wing social activists, teacher unions, and education bureaucrats (what I like to call the education industrial complex), triumph in the end?
Chris Talgo ([email protected]) is a former public high school teacher and senior editor at The Heartland Institute.
MORE: 'Save the Children from Howard Zinn': Oregon scholars challenge school-mandated reading of historian
IMAGE: Syda Productions / Shutterstock
Like The College Fix on Facebook / Follow us on Twitter