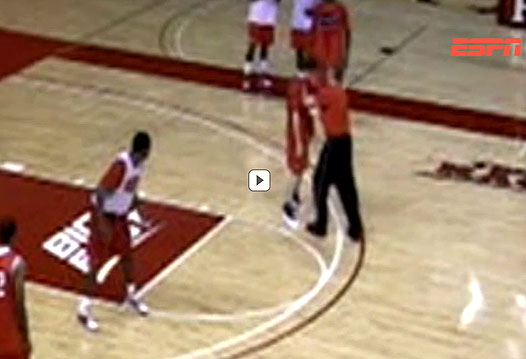 It all started with that infamous video. Originally aired by ESPN, the video shows Rutgers University basketball coach Mike Rice abusing his players physically and verbally, over and over again. It sparked anger across the country and quickly got Rice fired. In addition to Rice's ouster, the scandal has already resulted in the departure of Rutgers' athletic director, an assistant basketball coach, and the university's interim general counsel. Some have suggested that the president of the university should be assigned blame in the matter as well. But suspicion has also arisen over the motivations of the whistle-blower who brought the incident to light in the first place.
In 2010, Rutgers Athletic Director Tim Pernetti was looking for a head coach that could rescue the university's floundering basketball program. Mike Rice had a reputation for being "tough" and "fiery." He was even known for getting into fights with his own players as coach at Robert Morris. Pernetti hired him under the stipulation that he would be held accountable for any questionable behavior in his new job. Nonetheless, Pernetti had high hopes that Rice would be the one to turn around the Rutgers Scarlet Knights.
Over the next two seasons, the Scarlet Knights continued to struggle, finishing with a 29-35 record. While the results were disappointing, Pernetti still stood firmly behind Rice as the right man for the job. All the while though, Rice was engaging in appalling misconduct behind the scenes. For what ended up being three seasons, Rice was reportedly a vulgar, offensive, physically abusive tyrant to his team and sometimes even his own coaching staff. According to former Rutgers assistant coach Erik Murdock, no one spoke up until he and Rice had a simple disagreement in the summer of 2012.
Murdock, who had a long career playing in the NBA prior to taking the coaching job at Rutgers, was scheduled to work at Rice's summer basketball camp, but had a conflict with a camp that his high school aged-son was attending at the same time. According to Murdock, when he broached the subject of missing the session with Rice, the head coach screamed at him, angrily denied his request and fired him. Murdock, who was at the end of his contract, turned to Pernetti for assistance in the matter. He also informed Pernetti of Rice's pattern of verbal outbursts and violent, irrational behavior. Pernetti arranged a meeting between the two parties, but before Murdock had a chance to talk to Rice, he received a letter informing him that his contract was not being renewed.
To Murdock, it appeared Pernetti had chosen to side with Rice, despite Rice's known history of troubling behavior. Following his departure from the team, Murdock began building a case against Rice that he was wrongfully terminated. With the assistance of a team of lawyers, Murdock obtained DVD's consisting of hundreds of hours of Rutgers' practices. Murdock spent the fall reviewing the footage and compiling the most severe incidents into a 30-minute video.
On November 26, Murdock met with Pernetti and showed him the video for the first time. Upon viewing the unsettling footage, Pernetti felt compelled to immediately fire Rice, but first he thought he should consult with others such as university president Robert Barchi, interim general counsel John B. Wolf and others. At this point, Barchi had the opportunity to watch the videos, but inexplicably did not. Instead, the group – led by Barchi – decided to hire a lawyer named John P. Lacey to conduct an independent investigation. Following a 17-day investigation, Lacey turned over his findings in a 52-page report, but did not make a recommendation as to how the university should handle the situation. For whatever reason, Pernetti chose to give Rice a 3-game suspension instead of firing him. This proved to be a mistake last week when the story became public.
On April 2, ESPN's Outside the Lines aired a special report that showed portions of the 30-minute video that Pernetti first saw in November. The video features Rice being both physically and verbally abusive with his players. Physically, Rice is shown repeatedly grabbing, pushing and kicking his players, as well as intentionally launching basketballs at them during drills. He also screams, berates and belittles his players, calling them homophobic slurs and misogynist names. The video also featured Rice's assistant coach Jimmy Martelli behaving in a similar manner.
Almost as soon as the video aired, it went viral, sparking outrage from fans, the media, talk radio hosts, pundits and educators alike–all calling for Mike Rice's dismissal. The following day Rice was fired. That interim counsel John B. Wolf quietly resigned. Seeing that he was next, Martelli followed suit on April 4. But, the coaches weren't the only ones under fire. How could Tim Pernetti watch that video and issue Rice a mere three game suspension? Rutgers president Robert Barchi made it clear to Pernetti that he had to go too.
By April 6, when he publicly addressed the situation and labeled the scandal "a failure of process," Barchi appeared to be the last man standing. He also released the 52-page document that Lacey had produced during his investigation in December. Interestingly though, Lacey's report didn't fully fit with Murdock's account of the events. According to Lacey, Pernetti was actually first notified of Rice's misconduct by other assistant coaches months before Murdock spoke up.  Lacey also said that Murdock's lawyers demanded $950,000 to settle with Rutgers, but they declined.
Much has been made over Murdock's role in the matter. It is clear from the footage that he made the right decision to expose Rice. However, it's difficult, if not impossible, to determine if he was speaking out on behalf of the safety of the student athletes, or out of purely personal and financial interests.
As for president Barchi, he claims to have rectified the situation by eliminating everyone responsible. But it may be only be a matter of time before it's determined that he too played a role in the so-called "failure of process."
Fix contributor Blake Baxter is a student at Eureka College.
Click here to Like The College Fix on Facebook.  /  Twitter: @CollegeFix