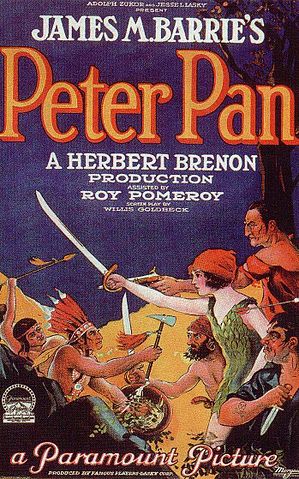 During a recent trip to New York I happened to see Peter and the Starcatcher, a play now on Broadway. The play purports to tell Peter Pan's backstory, explaining why the famous flying boy doesn't want to grow up. As Rick Elice, the playwright, tells it, a rough Dickensian upbringing in an orphanage leaves Pan pining for the carefree childhood he never had. His deepest wish is simply to play, frolic, and run free. Mix in some song and dance routines, and some pixie dust capable of making one's dearest wishes come true, and you have a recipe for eternal youth.
Today's college students are a lot like Pan in one respect — they are in no hurry to grow up. And if young people need a little pixie dust to make their wishes come true, then the unprecedented economic prosperity amassed by the developed world in the last 40 years has done the trick. Americans' wealth makes it possible for many parents to support their children financially through college, graduate school and beyond — leaving young people free to cruise along through their twenties, earning degrees of questionable utility, trying out various jobs and lifestyles, and endlessly exploring that all-powerful question: What do I want to do with my life?
Fifty years ago, the average college student might have expected to achieve financial independence, buy a home, marry, and have children — all within a few years of graduation, if not before. As a fairly recent college grad (2009), I can attest that these days, very few students even desire to attain these traditional milestones (except maybe the first) anytime before age 30. Nowadays, if an educated person marries before 25, he or she is considered backwards.
Today, the college years function less as a transition into adulthood and more as an extension of adolescence. For students, this postpones the "other-centeredness" of marriage and parenthood in favor of the relative self-centered focus of childless single life, where one's primary concerns are often one's own happiness and fulfillment, not that of spouse and child. In other words, the old notion of young adulthood entailed taking responsibility—economically and emotionally—for a family. For better or worse, today's educated class has cast that model aside.
In our present culture, life for young people is endlessly transitional. Everything is temporary. The most conspicuous evidence of this evanescence is the hook-up culture, which seems above all to have been conceived as a way for ambitious young people to get by, sexually, until they have enough degrees and enough professional experience to justify devoting a significant portion of their energy to non-career pursuits. Loveless, drunken sex with strangers—it's the oil that keeps our hypercredentialist, post-feminist society running.
Peter Pan, famously, wanted never to grow up; but J.M. Barrie, the playwright who first breathed life into him, showed that his adventures in Neverland were only ever a dream. Nevertheless, in response to economic and social pressures that encourage them to delay the traditional trappings of adulthood, members of my generation are doing their best to turn the dream into reality. In the spirit of Peter Pan, they're growing older, but they aren't growing up.
This article is an excerpt from the author's essay, "Peter Pan Goes to College," published in the March/April 2013 edition of the journal SOCIETY (Vol 50, Num 2). Click here to access the complete essay online via subscription or paid download.
Nathan Harden is editor of The College Fix and author of the book SEX & GOD AT YALE: Porn, Political Correctness, and a Good Education Gone Bad.
Like The College Fix on Facebook.
Follow Nathan on Twitter @NathanHarden