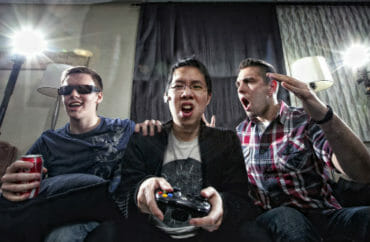 Clear rules are oppressive
Video games have been blamed for all sorts of social ills, but Protestant work ethic is a new one.
Seattle University's Christopher Paul, chair of the communication department, wants to rid the genre of "toxic" elements like "skill and technique" and "hard work" that results in accomplishment, as detailed in his new book The Toxic Meritocracy of Video Games.
The gamer and gender-issues professor is outraged that the "typical narrative in a game is a rags to riches story where the player propels the character into a key role and perhaps even attains god-like status," he told Campus Reform.
Paul prefers games like Mario Party because they emphasize the "collective" and account for "luck, contingency, and serendipity," which drew this personal rebuke from Robby Soave at Reason:
In the Mario Party games in particular—where the "luck" aspect can be overwhelming and game-breaking—my play-group often came away thinking, "Well, that was a terrible game." The mini-game comes to mind where Bowser appears, forces you to pick a random color, and then relieves you of your hard-won coins and stars if you choose wrong.

If that's your thing, more power to you. Play all the Mario Party you want. But I don't think it's "toxic" for more serious gamers to prefer games with clearly defined rules and a skill-based system that rewards good gameplay. Gamer culture has its problems, but promoting meritocracy isn't one of them.
Meritocracy is a direct attack on the victimhood culture promoted by the trendiest academics, so it's not exactly a surprise that Paul wants to drive it out of video games.
Read his interview with Campus Reform and Soave's take at Reason.
IMAGE: Taylor McBride/Flickr
Like The College Fix on Facebook / Follow us on Twitter