Said his tweet accusing her of not being 'authentically pro-life' was 'misunderstood'
Daniel Horan, a Catholic priest and a theology professor at the Catholic Theological Union, compared a Catholic sister to a Nazi after she endorsed President Donald Trump because of his support for pro-life policies.
Horan's criticism was directed at Sister Deidre Byrne, who spoke at the Republican National Convention on August 26. Byrne said she supported President Trump because "Donald Trump is the most pro-life president this nation has ever had, defending life at all stages."
Byrne added that Trump "will stand up against Biden-Harris, who are the most anti-life presidential ticket ever, even supporting the horrors of late-term abortion and infanticide."
According to a screenshot of the tweet archived by the Daily Caller, the priest wrote in a since-deleted tweet on August 27: "Last night was a shocking and sad reminder that not all religious sisters stand on the side of the oppressed, poor, marginalized, and victims of history. She may be anti-abortion, but she is as far from being authentically Pro-life in the Catholic tradition as this nun in 1940s."
The tweet then included a photo of a Catholic nun making a "Heil Hitler" salute at a Nazi rally in Dachau, Germany, in 1935, according to the United States Holocaust Memorial Museum.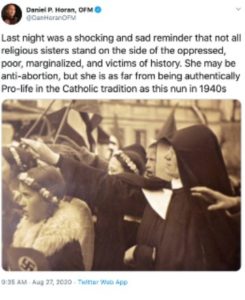 In follow-up tweets on August 27, Horan said he was "misunderstood."
"I have decided to take down an earlier tweet, which has been misunderstood, highlighting dangers of Catholic religious endorsing political parties, showing the historical precedents for such atrocities of religious supporting political movements rooted in fear, hatred, division," Horan tweeted.
He said he removed the tweet because of "malicious misinterpretation" and said "my point stands and it [sic] supported by church teaching against political endorsements by bishops, priests, and religious!!"
Horan did not respond to an emailed request for comment on Friday morning from The College Fix.
He did not respond to a quote tweet directed at him [Horan's direct messages are closed and only people he follows can reply directly to him on tweets].
Byrne's speech was not solely about abortion — she touched on her career of serving a variety of people in need.
Her career included serving in the U.S. military for 29 years as a medical doctor including in Egypt and Afghanistan. She entered her religious order in 2002 so she could "serve the poor and the sick in Haiti, Sudan, Kenya, Iraq and in Washington, D.C."
She said in her speech:
But I can speak about my experience working for those fleeing war-torn and impoverished countries all around the world. Those refugees all share a common experience. They have all been marginalized, viewed as insignificant, powerless and voiceless. And while we tend to think of the marginalized as living beyond our borders, the truth is the largest marginalized group in the world can be found here in the United States. They are the unborn.
MORE: Maryland high school teacher compares Trump to Nazis, communists
IMAGES: Daily Caller; PBS News Hour/ Youtube Screenshot
Like The College Fix on Facebook / Follow us on Twitter