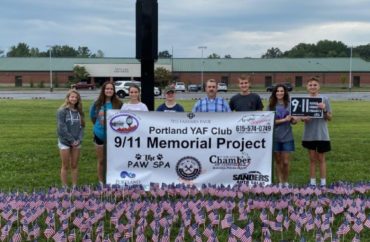 Twenty years after the attack on America, students born after 2001 want to honor lives lost
College freshmen this year almost universally were born after the Islamic terrorist attack on our country on September 11, 2001. But that has not stopped them from wanting to honor the fallen and remember how all Americans were affected that day.
Young America's Foundation lists over 125 high schools and colleges who plan to host the "9/11: Never Forget" flag display.
"This year marks the 20th anniversary of the horrific attacks by Islamists that took the lives of 2,977 people at the World Trade Center, the Pentagon, and on United Flight 93," YAF explains. "For more than 18 years, Young America's Foundation has worked with students across the country to make sure those murdered are properly remembered through the 9/11: Never Forget Project."
The Federalist spoke to one student who plans to participate this year.
"They didn't have to live through it, but they still have to remember," Hillsdale College student David Swegle said. His YAF chapter has put up flags and there is also a ceremony conducted with the local American Legion and the Hillsdale Fire Department.
YAF president and former Wisconsin Governor Scott Walker told the Federalist why his organization continues the project.
"Every student younger than 20 years old in this country was born after 9/11," Walker said. "As schools and public officials across the country attempt to sanitize the tragic attacks, we need to remind the next generation of what happened, who did it, and why they did it."
The UCLA College Republicans also plan to participate in the display.
"This Saturday, September 11, the Bruin Republicans will be holding a memorial for those that died as a consequence of the horrific terrorism on 9/11, 20 years ago," the Bruin Republicans wrote in an email. "As the second decade after 9/11 passes, we need to ensure that future generations are made aware of the events that took place that day so that we never forget."
MORE: Public university washes away conservative group's 9/11 memorial
IMAGE: April Lane/Twitter
Like The College Fix on Facebook / Follow us on Twitter