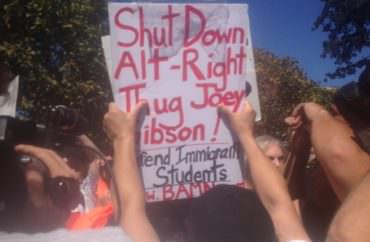 BERKELEY, Calif. — For a third consecutive day, left and right-wing demonstrators clashed on the campus of UC Berkeley.
On Tuesday a march and rally held by the right-wing group "Patriot Prayer" prompted tensions to flare.
The group, which bills itself as fighting "corruption both in the government and citizen levels," gathered at Sproul Plaza shortly before 2 p.m. Tuesday to lead a rally and march into the city.
As the group's founder Joey Gibson attempted to lead members off campus, left-wing demonstrators gathered around Gibson, held signs up to his face and shouted chants.
UC Berkeley's campus has been a hotbed of activism this week despite the last minute cancellation of the highly anticipated "Free Speech Week," an event that was slated to host a cadre of right-wing speakers.
Far-left demonstrators held a "Berkeley Rally Against White Supremacy" on campus yesterday, during which activists blocked and harassed observers and reporters. And right-wing provocateur Milo Yiannopoulos, who was slated to headline the Free Speech Week events, made a brief appearance on campus on Sunday, a visit that included tensions among protesters and fans.
As for Tuesday's event, when Gibson entered an "empathy tent" set up for dialogue, counter-protesters shouted him down as he spoke.
Their mantras included "No Trump, No KKK, no fascist USA" and "Milo had to run away, immigrants are here to stay."
"These people have no argument. That's why they just yell and they scream and all they can say is racist and fascist. That's all they have," Gibson said in the dialogue tent on campus.
At one point, some right and left-wing demonstrators around the tent aggressively confronted one another as multiple attendees shouted "No violence" and one individual yelled "Cool it."
As demonstrators left campus and marched toward People's Park in Berkeley, police arrested anti-fascist protester Yvonne Felarca for battery and resisting arrest. ABC 7 News reports at least four individuals were arrested Tuesday.
Yvonne Felarca, 47, of Oakland, was arrested near Telegraph Ave and Channing Way for battery and resisting arrest. pic.twitter.com/AsZlCsdLC7

— Berkeley Police (@berkeleypolice) September 26, 2017
While at People's Park, Gibson addressed the crowd and said "we're being played" by elites and the establishment. He said he preaches love "because that's the only way to heal this country."
He said his organization will continue coming to Berkeley until the city starts respecting free speech. After engaging in speeches and dialogue at People's Park, Patriot Prayer members and supporters marched back to Sproul Plaza to hold a small rally before taking a walk through campus. The event ended peacefully there.
We're now going on what I'm calling the Campus Tour. 1 Patriot Prayer guy goes: "this campus is beautiful. I've never actually seen it" pic.twitter.com/Arm9ZVw3ft

— Benjamin Oreskes (@boreskes) September 26, 2017
In a video posted on Facebook, Gibson described Tuesday's event as "a win for freedom" and said he'd return to campus Wednesday.
Counter-events organized to combat the originally planned Free Speech Week were cancelled Tuesday. The campus chapter of the American Civil Liberties Union scrapped speakers planned for Tuesday evening and Wednesday.
In a Facebook post, organizers said the events were cancelled because "it has been difficult to obtain sufficient volunteer and security personnel." An event hosted by the group on Tuesday afternoon at the university's Crescent Lawn drew sparse attendance.
Erected Tuesday on the Crescent Lawn was a Free Speech Wall and one of the first students to sign it penned a pro-Milo Yiannopoulos statement.
Freshman Harrison Lucas responded to the prompt of "what does free speech mean to you" by writing "letting Milo speak."
In an interview with The College Fix, Lucas said he doesn't agree with everything Yiannopoulos says but values the right-wing gadfly's ability to speak on campus. He said he was excited about the Free Speech Week events slated to be held on campus and bummed they were cancelled.
"I would love to see Milo come back," Lucas said.
MORE: Far-left demonstrators at UC Berkeley target observers at 'Rally Against White Supremacy'
Like The College Fix on Facebook / Follow us on Twitter