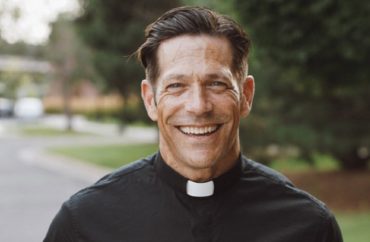 A daily podcast about religion outperforms larger media outlets
One of the most popular podcasters so far this year is a college chaplain whose day job is ministering to students.
"The Catechism in a Year with Fr. Mike Schmitz," even started off 2023 topping Apple Podcasts in all categories. A related podcast, "Bible in a Year" continues to stay at the top of the charts since it launched in January 2021.
A Facebook group dedicated to the catechism series has 138,000 members. The Bible and catechism series were both beating established shows such as "The Ramsey Show," "The Ben Shapiro Show" and ABC News' "20/20" show on Apple Podcasts rankings as of February 1.
A ranking in mid-January placed the catechism podcast first overall and the Bible series fourth. The catechism videos regularly get 50,000 or more views per episode.
Schmitz is also the chaplain at the University of Minnesota-Duluth and the youth ministry director for the local Catholic diocese. He began making videos on Catholicism almost ten years ago.
"Fr. Mike was initially a video presenter in Ascension's popular "Chosen: Your Journey to Confirmation" Program, which launched nearly a decade ago," Lauren Joyce, an Ascension Press representative, said in an email to The College Fix. "His first video on the Ascension Presents YouTube channel aired in April 2015, and since then the YouTube channel has grown to over 780,000 subscribers with tens of millions of yearly views, and is the largest Catholic YouTube channel in English."
Ascension is the Catholic media company behind the popular podcasts. Schmitz was not available to provide comment due to his schedule.
The priest's chaplaincy duties, which includes Mass, spiritual support for students and hosting speakers, still come first.
"He has said many times that his students are his first priority, and being a spiritual father to them is his most important commitment," Joyce told The Fix.
The Fix asked how Schmitz's campus ministry role helped him in the creation of the Bible and catechism content.
"It's fair to conclude that the spiritual needs and questions Fr. Mike encounters on campus inform the way that he explains Church teaching [in the two podcasts]," Joyce said. These experiences also "give him insight into the spiritual questions that college students, and therefore also our larger culture, are asking."
College students say Fr. Mike's videos help them grow in their faith
The Fix spoke to multiple students who shared their positive experiences with Ascension's daily catechism series.
"The Catechism in a Year has encouraged me to actually sit down and read the Catechism, which, due to its size and density, has always intimidated me," Rachael Kemme, a junior studying English and writing at Franciscan University of Steubenville, told The Fix in an email. "But through the podcast's daily short selections of text, I've been able to sit with these theological ideas and actually give them proper focus, rather than being overwhelmed."
An English and education double major at Franciscan University shared similar thoughts.
"I've especially appreciated Fr. Mike's approach because it is unique from previous academic study of the Catechism that I have experienced," Emily Salerno-Oswald, told The Fix via email. "He strives to connect head knowledge with heart knowledge. He is receptive to being a vessel for the Holy Spirit to work through."
The podcasts are also attracting attention in non-Catholic circles.
"We have heard hundreds (maybe thousands!) of testimonies from non-Catholics who have chosen to listen along to BIY and CIY," Joyce, the Ascension media rep, said in her email. "Some non-Catholics who discover the podcasts later decide to convert to Catholicism, while others remain in their own faith tradition, but are happy to learn more about Catholicism from a friendly, helpful teacher like Fr. Mike."
Theology students recommend the podcasts to anyone who wants to learn about the Catholic Faith.
"Fr. Mike has a good media personality and is very inviting, and if he is challenging, he does it in a way to call you on, not condemn you," Kyle Glauner, a graduate theology student at Franciscan, wrote in an email to The Fix.
"I would recommend this podcast to anyone who wants to know about the Catholic Faith, whether they are a cradle Catholic, convert to the Fullness of Faith, or someone who has questions about the Church and what she teaches," Glauner said.
MORE: 'Priest on duty' ministers to Indiana University community
IMAGE: Bulldogcatholic.org
Like The College Fix on Facebook / Follow us on Twitter