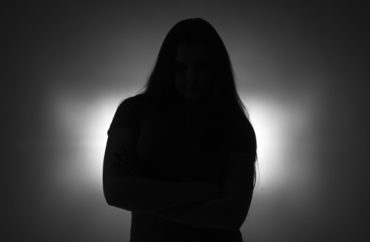 UPDATED
ANALYSIS: Wesleyan University's only sorority in turmoil after diversity of thought is met with a dialogue dominated by threats and denunciations
Throughout the spring semester, Wesleyan University's only sorority, Rho Epsilon Pi, undertook dramatic measures to increase diversity and inclusion during a year marked by demands for racial justice across the nation.
The sorority appointed a diversity chair to oversee and pursue the creation of a more inclusive environment as well as promote social activism within the sorority.
With that, the majority of Rho Epsilon's events and its recruitment drive this semester were centered on bringing in more women of color to combat "the white supremacist" culture of sororities.
While this process incorporated all members of the sorority, the change was largely brought on by leadership of the sorority rather than as a result of a popular mandate.
Thus, while some ardently supported these new directives, a substantial number of members became disillusioned with the new direction of the organization, according to a College Fix investigation that included interviews with several members and a review of internal documents.
Some members argued that the prioritization of a social justice agenda in a sorority at one of the most left-wing universities in the United States is redundant and diminishes the cohesion and the true purpose of Greek Life.
Furthermore, in an anonymous feedback form that was directed at the leadership of Rho Epsilon Pi, a member expressed doubts and concerns over this new direction. In response to this form that expressed criticism of the agenda as well as the implementation of the new measures, the leadership of the sorority as well as many sisters responded by attacking the individual and her feedback, according to copies of the discussion reviewed by The Fix.
Despite the anonymity of their critic, leadership harshly denounced her as a racist, demanding that she immediately come forward and leave the sorority.
Here, it is evident that those who condemned this individual immediately concluded that she was a white racist as her feedback did not fall in line with the politically correct consensus on racial discourse. However, much to the dismay of the sorority, the author of the form is, in fact, a woman of color.
After receiving baseless attacks that had been levied against her by her own sorority, the individual produced a statement revealing her identity and addressing the controversy as a whole.
Her statement clarified and defended her original response, pointing out that while she did not intend to ignite such reprisals, she still intended to open an honest dialogue with her fellow sisters.
She lamented the "lack of depth and awareness" that was displayed by sorority leadership in its recent conversations about social and restorative justice.
She argued that the dynamic of social justice and drive for racial equality had created an environment that was "polarizing" and hostile toward a productive discussion of issues that were already heavily "charged."
She pointed out this environment led to her and fellow sisters feeling "judged, intimidated and framed as having malicious intent behind their comments or actions."
Referencing this dynamic, she specifically referred to her fear of the diversity chair and stated that she was "scared to even ask a question" as to what was "politically correct" or not.
(Below, screenshots of parts of her letter. Her signature was redacted by The College Fix)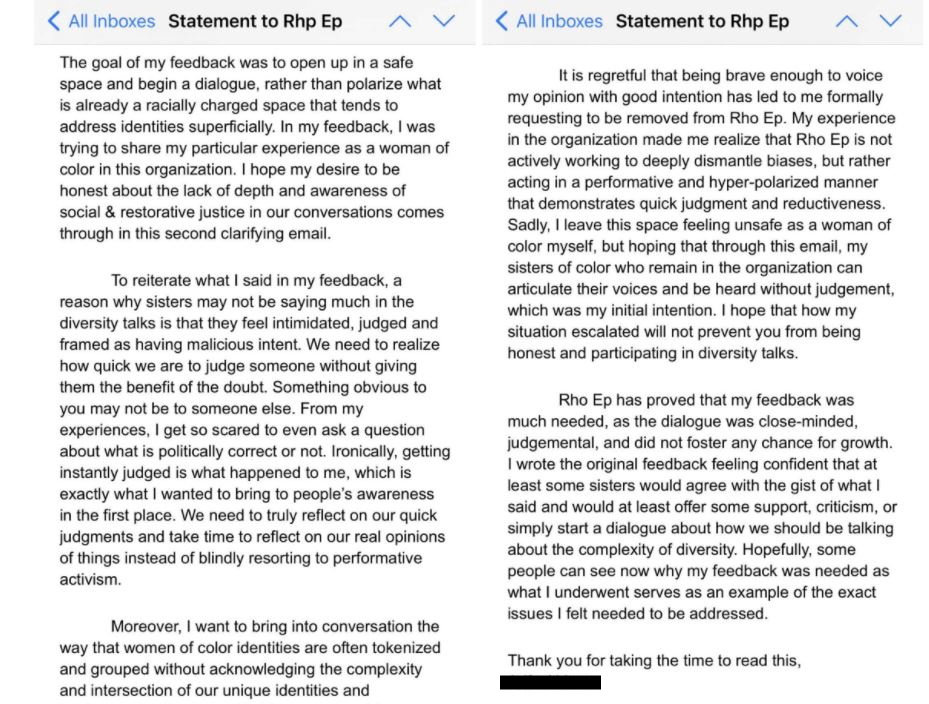 Ironically, her fear proved to be justified due to the unforgiving manner in which she was judged by those in charge. The statement addressed this, arguing that the situation was in part escalated by "threats" she had received over her genuine and earnest feedback.
She made reference to a "harmful" Zoom meeting in which her feedback form was discussed. She noted that "more than 30" sisters vilified her character, framing her as a "white racist person" without any knowledge of who she was and due to their misinterpretation of her constructive criticism.
According to her statement, the language used by those who attacked her was "threatening and abusive" and could be equated to "bullying." Regardless, she argued that this meeting represented a failure to adhere to the "Ground Rules" of Rho Epsilon Pi's chapter meetings that expressed the goal to "make every girl feel safe and heard" and to "assume good intent."
As part of her statement she requested her formal removal from the sorority.
She expressed vindication for her initial response contending Rho Epsilon was not acting to dismantle biases, but rather acting in a "performative and hyper-polarized manner" that was a result of cynical posturing and "closed-minded" judgement as opposed to genuine concern.
She argued that the ordeal had made her feel "unsafe" as a woman of color as furthering reasoning for her withdrawal.
Rho Epsilon has been reeling ever since this debacle as its leadership has not formulated a coherent defense of its actions. And although only one member has requested to leave the sorority, the deteriorating campus opinion of the organization as well as internal division will only seek to further threaten the status of Wesleyan's only sorority that has persisted for over 10 years.
Overall, this experience starkly conveys the frightening experience of many college students across the nation, who take the risk of expressing their views with candor as any dissent from the politically correct consensus is met with hostility regardless of its merit or intent.
Furthermore, such occurrences raise questions as to the efficacy of a message of diversity and inclusion when diversity of thought is met with a dialogue that is dominated by threats and denunciations.
Editor's note: The post has been amended to note the sorority sister did not comment to The College Fix directly. 
MORE: White columnist tormented by Black Lives Matter activists for op-ed critical of movement
IMAGE: Chris Tefme / Shutterstock
Like The College Fix on Facebook / Follow us on Twitter