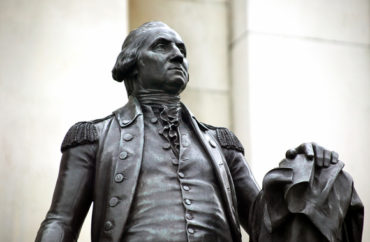 Hmmm
The George Washington University Board of Trustees recently created a "Task Force on Naming" the purpose of which will be to determine policies and guidelines for naming and renaming campus buildings. Students at that school have been pushing for such an initiative for years; only recently has school management obliged them.
In and of itself this is not exactly untoward: Universities are always examining and re-examining their legacies, and it would be strange if institutions of higher education were not willing to at least consider what the names emblazoned on their campuses say about those campuses themselves.
And yet: According to one member of the task force, the initiative is "not considering changing the name of the university itself." Neither are any other school officials, it seems. And, in the context of the renaming craze currently sweeping campuses, is odd. Most of those who demand the renaming of campus buildings, after all, do so with much lower standards than that. Activists at the George Washington University, after all, have been demanding that the school rename its Marvin Center for over 40 years. Its namesake, former GWU president Cloyd Marvin, held notably ugly views about race and racial groups. But, noxious and odious as those views were, they did not rise to the level of human ownership. The two are qualitatively different.
(You could fairly argue that George Washington was known for much more than simply owning slaves. That's true. Then again, think of the most famous and respected celebrity you can think of today. If he also owned slaves, do you imagine you'd be able to associate him with anything else?)
The point isn't that GWU should rename itself — it shouldn't. George Washington, for all his considerable flaws, was a monumental American whose complex legacy deserves all the honor and admiration we bestow upon it. The point is this — the renaming zeitgeist is usually less about an honest grappling with history and more about politically correct posturing and feel-good activism. The former is always worthwhile; the latter is silly grandstanding, the kind of thing that can only be sustained in perpetuity on a college campus.
MORE: GWU trustees creates 'task force' to explore renaming campus buildings
IMAGE: Tony Baggett / Shutterstock.com
Like The College Fix on Facebook / Follow us on Twitter