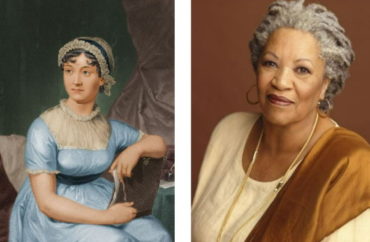 Revised curriculum will also include trigger warnings
It is a truth universally acknowledged, that activist professors in possession of an academic department, must be in want of a curriculum change.
Such is the case with the English Department at one UK university, which has swapped the classic "Pride and Prejudice" famed British author Jane Austen for Pulitzer Prize-winning African-American novelist Toni Morrison, known best for books like "Beloved" and work addressing race and gender.
The move is part of Stirling University's goal to promote the "decolonisation of the curriculum," according to documents obtained by The Telegraph in April.
Topics to be covered in the revised special authors module include "racial difference and critical race theory, gender and sexuality" as well as "black postmodernism, Gothic, as well as the aesthetics of the contemporary US and African-American novel."
Austen's novels, set in the Regency era, typically center on human nature, marriage, education, morals and social roles.
Changes to the course are made annually, according to the university.
"The English and Literature department at Stirling has not critiqued Austen, and the university has said that its Special Authors module changes focus on an annual basis," The Telegraph reports.
Even with the revised curriculum, student reading lists will feature trigger warnings about "the language of colonialism."
Stirling University did not respond to a request for comment from The College Fix.
British author and historian Tom Holland pointed out what he saw as the irony behind the university's decision on Twitter.
I love the idea that a British university, by dropping Britain's most signficant female novelist in favour of an American one, is somehow decolonising itself. https://t.co/XnYi2xlQbF

— Tom Holland (@holland_tom) April 5, 2022
"I love the idea that a British university, by dropping Britain's most signficant female novelist in favour of an American one, is somehow decolonising itself," he said. "Why don't British humanities departments just admit the truth: that they're absolutely desperate to become outposts of American university culture?"
Austen previously came under scrutiny in 2021 when the Jane Austen House Museum announced its plans to launch a "historical interrogation" into the connection between her tea drinking and slavery.
"As purchasers of tea, sugar and cotton they [Austen's family] were consumers of the products of the trade, and did also have closer links via family and friends," director of Jane Austen's House Museum Lizzie Dunford told The Telegraph in April 2021.
"At Jane Austen's House we are in the process of reviewing and updating all of our interpretation, including plans to explore the Empire and Regency Colonial context of both Austen's family and her work."
The museum later clarified that changes to displays would be "part of a layered and nuanced presentation which will be based on long established, peer reviewed academic research," adding that they "never had any intention to interrogate Jane Austen, her characters or her readers for drinking tea."
Recent scholarship, however, may exonerate Austen from such accusations. A research paper published in May 2021 by ASU English Professor Devoney Looser revealed the Austen family had direct ties to the abolition movement.
Austen's closest brother, Henry, was an attendee of the 1840 World Anti-Slavery Convention in London. Austen herself expressed in letters her admiration of various abolitionist writers of the time, such as Thomas Clarkson.
MORE: Yale 'decolonizes' English dept. after complaints studying white authors 'actively harms' students
Like The College Fix on Facebook / Follow us on Twitter