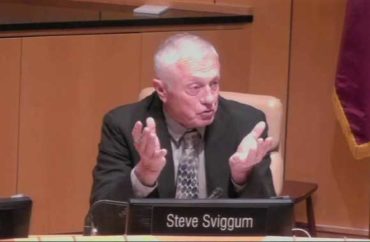 'My questions were not intended to cause harm, but my intent does not matter'
Steve Sviggum, a former Republican Speaker of the Minnesota House of Representatives and former vice chair of the University of Minnesota Board of Regents, issued a formal apology and stepped down from his position on October 25 after suggesting that the school's Morris campus was "too diverse."
Sviggum made his controversial remarks less than two weeks prior at a Board of Regents meeting in which Interim Chancellor Janet Schrunk discussed the University of Minnesota-Morris' declining enrollment since COVID, according to The Minnesota Daily.
"Is it possible that at Morris we've become too diverse?" Sviggum said in response, according to the paper.
Sviggum issued a statement on October 18 to the chancellor and community of University of Minnesota-Morris in which he "unequivocally apologized" for his statement.
"I posed a question regarding the diversity of the student body and whether that diversity was—in any way—linked to the recent enrollment challenges," he stated.
"Let me unequivocally apologize for my questions, and especially for the unintended hurt my questions may have caused," he stated. "They were not intended to cause harm, but my intent does not matter. For those whom I have harmed or offended, and for all of those associated with our great university, I am truly sorry."
Sviggum then announced his resignation on October 25, but he plans to remain on the board until the conclusion of his term in spring 2023, according to The Minnesota Daily. 
The College Fix reached out to Sviggum to ask about the intent of his statement, what he thinks might be causing the enrollment decline at Morris, and to clarify his future status on the Board of Regents. He has not yet responded.
"Sviggum stated he asked this question based on a letter and a phone call from parents concerned their children won't be attending Morris because they would not feel comfortable due to the increased diversity," The Minnesota Daily stated.
Dylan Young, president of the Morris Campus Student Association, stated in an Instagram post on October 25 that the association had demanded Sviggum's resignation the night prior, on October 24.
"I am thankful that Regent Sviggum has chosen to resign from the role of Board of Regents Vice Chair," Young wrote. "The night before his resignation, we passed a resolution calling on him to do so and he did the next morning."
"In the meantime, I encourage everyone to look to the upcoming midterm election. Our representatives in the Minnesota state legislature are the people who choose the membership of the Board…This upcoming election will be integral to the selection of Regents who care about the values of diversity, equity, and inclusion," he continued.
The Fix reached out to MCSA for comment but has not received a response.
Teamsters Local 320, a local union chapter that includes approximately 1,500 workers for the University of Minnesota, according to its website, also called for Sviggum's resignation.
"Teamsters Local 320 was disgusted and dismayed upon hearing the racist and divisive comments made by Steve Sviggum, Board of Regents Vice-Chair," the organization wrote in a statement on its Facebook page October 17. "The UMN leadership's tolerance of Mr. Sviggum indicates that there is a need to reshape the leadership structure of this important public institution."
"Teamsters local 320 calls for Steve Sviggum to resign immediately."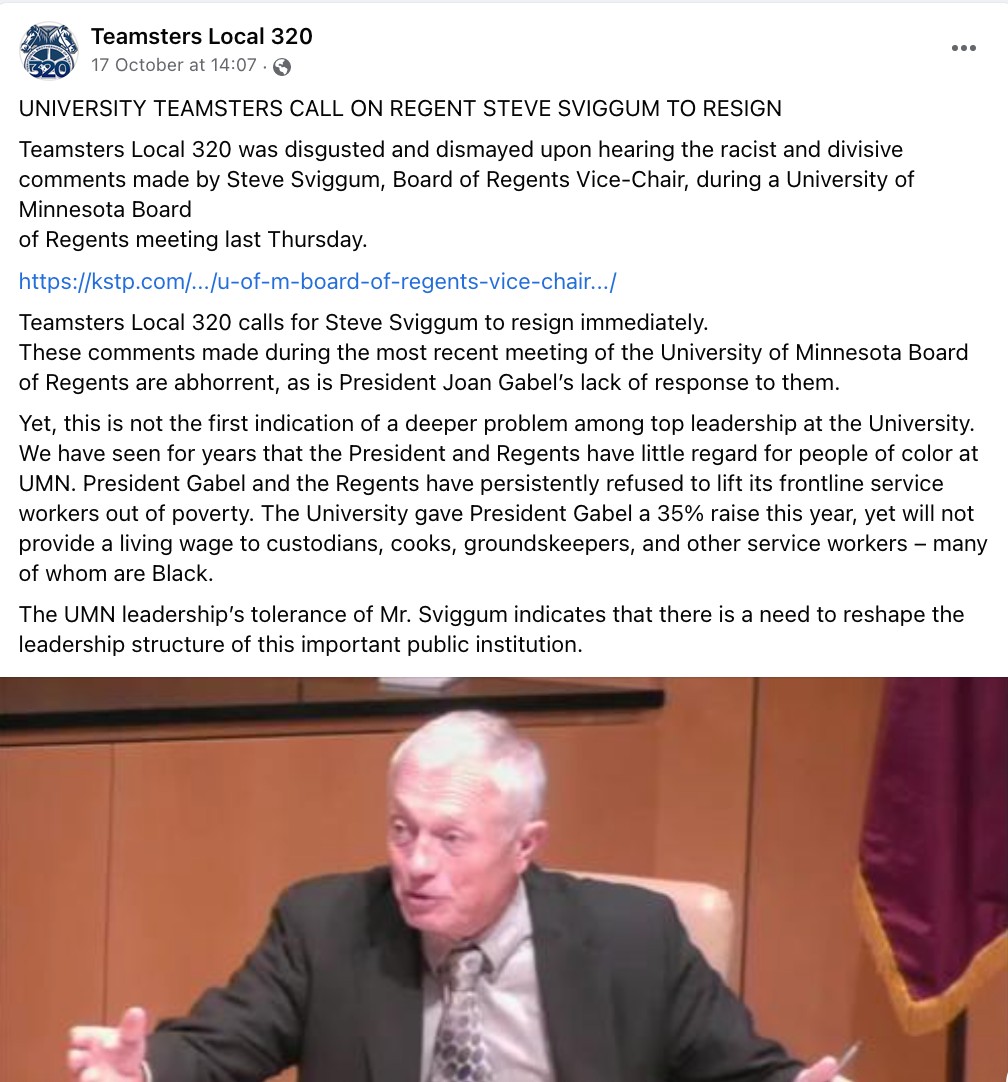 The Fix asked Matthew McQuaid, Teamster 320 spokesperson, how the union feels about Sviggum's resignation, why it thought he had said the campus might be too diverse, and what they would like to see in his replacement.
McQuaid forwarded the email to Teamsters 320 Principal Officer Brian Aldes, who has not yet responded.
Board of Regents chair also apologized, promised DEI training
The Fix asked the University of Minnesota Board of Regents Chair Ken Powell whether Sviggum had ever resolved to limit the diversity of the Morris campus or alter the makeup of its student body, and what Powell believes might be driving the reduced enrollment at the university.
Powell referred The Fix to a letter of apology he himself had written on October 19.
"As you know, last Thursday Regent Sviggum asked a question regarding Morris enrollment. We all bear responsibility for speaking up and condemning the question, whether on Thursday or in our Friday meeting," Powell wrote. "As the leader of our board, I should have done better and I am not proud of my inaction."
"Our Board is committed to Diversity, Equity, and Inclusion (DEI) and it is a central anchor of the president's MPact 2025 strategic plan, which the Board has fully endorsed," he continued.
"In addition, I am committing today to provide DEI training to the entire Board of Regents that will help us more fully understand and reaffirm the power that different perspectives bring to our shared success," Powell wrote.
MORE: Academic diversity officers are 'boots on the ground' for DEI
IMAGE: Fox News affiliate
Like The College Fix on Facebook / Follow us on Twitter