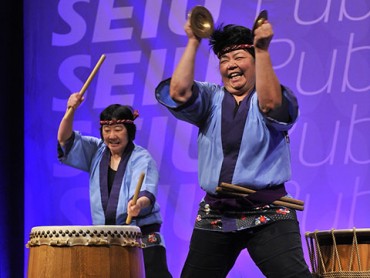 The dominoes continue to fall: Point Park University in Pittsburgh said Monday it's dropping its legal fight against full-time faculty who want to unionize at the private school.
Faculty have been trying to unionize since 2003 – "under a different University administration," the school pointed out – and the fight went through appeals at the National Labor Relations Board and 3rd U.S. Circuit Court of Appeals before going "dormant" for the past eight years.
What awoke this slumbering beast? Why, an NLRB ruling from December against a Christian college in Washington state that said it couldn't stop adjuncts from unionizing. That flew in the face of a 35-year-old Supreme Court ruling that most tenure-track faculty at private institutions are "managerial" and thus can't unionize without their schools' permission.
Point Park evidently thinks it's going to lose under this pioneering NLRB precedent, so it "does not wish to spend any resources on a potentially costly legal battle with its full-time faculty," it said.
Inside Higher Ed notes that Point Park changed its tune very recently, notwithstanding its invocation of a previous administration for the legal fight:
As recently as May, however, the university was urging the NLRB to back off plans to apply its December ruling to Point Park. The decision by Point Park to drop its appeals follows the NLRB stating that it would apply the December ruling, which came in a case involving Pacific Lutheran University.
Schools looking to protect their bottom lines may find it cheaper to just give in to faculty, according to William Herbert, executive director of the National Center for the Study of Collective Bargaining in Higher Education and the Professions:
While it is possible that a private college could still win, the NLRB's ruling had made that process potentially long and expensive, with the outcome uncertain, he said. The decision by Point Park could illustrate how other colleges may consider "the judgment call about where they will spend their resources — fighting unionization with lengthy hearings or on educational matters."
Ironically, as Inside Higher Ed notes, after winning their case at the NLRB, faculty at Pacific Lutheran University withdrew their request for unionization "after uncontested votes showed them losing."
Read Point Park's statement and Inside Higher Ed.
Like The College Fix on Facebook / Follow us on Twitter
IMAGE: SEIU/Flickr