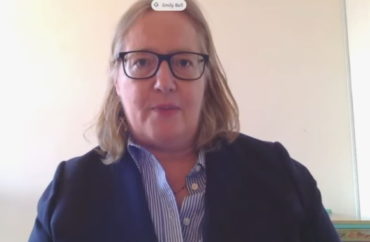 The top digital journalism professor at Columbia University recently called for some center-right news outlets to be censored in the name of cracking down on misinformation.
Professor Emily Bell, director of the Tow Center for Digital Media, said it is not an infringement of the First Amendment to audit and vet some news outlets to promote a "truthful news environment."
She made the comments in response to concerns among U.S. Reps. Jerry McNerney and Anna Eshoo, who sent letters to a multitude of streaming companies, including AT&T, Verizon, Roku, Amazon, Apple, Comcast, Charter, Dish, Cox and Hulu, asking them about censoring "misinformation" in the conservative media.
The Democratic senior members expressed that "right-wing media ecosystem[s]" like "Newsmax, One America News Network (OANN), and Fox News" must be held accountable for supposed fallacies on their networks and suggested they be booted from these venues.
"Have you taken any adverse actions against a channel, including Fox News, Newsmax, and OANN, for using your platform to disseminate disinformation related directly or indirectly to the November 3, 2020 elections, the January 6, 2021 Capitol insurrection, or COVID-19 misinformation," the letter asks.
The justification for this, according to these lawmakers, is that the media "radicalizes individuals to commit seditious acts and rejects public health best practices, among other issues in our public discourse."
Rep. McNerney, in a statement about his letter, said he blames conservative media for the attack at the Capitol: "[t]his is the information that's causing real harm in this country… We had five people killed, we had a hundred people injured and the whole world was watching horror as the seed of democracy in this country was attacked."
At a Feb. 24 hearing on the matter, titled "Fanning the Flames: Disinformation and Extremism in the Media," one key witness was Professor Bell. It was hosted by the Committee on Energy and Commerce's subcommittee on communications and technology.
Bell said that the unprecedented events of 2020 and 2021 coincided with "widespread and often politized information" on "conservative cable news channels" and that local reporters need to "learn new cadence."
She added that the country needs to "rethink what public broadcasting is in the digital age" and "apply some pressure to the platform companies to allow much greater auditing."
Bell's full remarks may be viewed here:
"There has to be a will among the political elite and the media elite and the technology elite to actually do the right thing, as it were," Bell said, as reported in The Wall Street Journal.
The Journal, in its editorial, argued that "means tightening speech restrictions. To borrow another progressive cliche, this is a dog whistle for tech companies and other businesses to censor or block conservatives if government can't."
While Professor Bell initially replied to The College Fix's media request, she did not respond to subsequent attempts for comment on the context of her comments or how she would like to see such censorship implemented.
Bell had said in the hearing that "policy role … is not about infringing the First Amendment," but instead an insurance for "a more vibrant truthful news environment."
Asked to respond to the professor's argument, David Randall, director of research at the National Association of Scholars, said that "the point of free speech is that the people have the right to determine what is true, and that the government should not be delegated such power."
Randall, in an email to The College Fix, said that "it is astonishing that a Professor of Journalism would not recognize this basic point."
MORE: Stanford newspaper editor demands removal of College Republicans
IMAGE: YouTube screenshot
Like The College Fix on Facebook / Follow us on Twitter