UCSF med school works to be 'the most diverse, equitable and inclusive academic medical system in the country'
The University of California San Francisco School of Medicine expects its educators and clinicians to work to dismantle racist systems and create an inclusive environment, as well as to frame medical education through an anti-racist lens that focuses on the role of institutional and structural racism in medicine and healthcare.
This is according to a litany of diversity, equity and inclusion expectations and mandates embedded into the school in recent years that are detailed on the medical school's website.
The UCSF School of Medicine seeks to be "the most diverse, equitable and inclusive academic medical system in the country," according to the webpage for the school's Differences Matter initiative.
"It is time that we engineer our culture for equity and inclusion so that all may thrive," this consistently top-rated medical and educational institution states on the same page.
A document on the school's website concerning best practices for serving on leadership search and appointment committees reminds potential committee members of the importance of requiring DEI statements from applicants.
It also encourages leaders to learn about their own biases using the Implicit Association Test, a word-image association task promoted by its creators as a measure of implicit-bias and real-world biased behavior, but heavily criticized as methodologically flawed by some fellow psychometricians and investigative reporters.
That document, in turn, links to a rubric for assessing DEI statements through metrics that ultimately penalize applicants who "discount the importance of diversity," do not "feel any personal responsibility for helping to create an equitable and inclusive environment," or state "the intention to ignore the varying backgrounds of their students and 'treat everyone the same.'"
On the school's Anti-Oppression Curriculum Initiative resources page are several links to guidelines for maintaining an inclusive environment with regard to pronouns and microaggressions.
One encourages faculty to ask all students for their preferred names and pronouns and reminds faculty to check in with victims of microaggressions if one should occur.
Another provides instructions on what to do when called out for a DEI-related infraction, encouraging those called out to treat the call out as a learning opportunity and educational experience gifted to them through the emotional labor of the person who called them out: "Being called out (or in) can be a gift, as it calls on us to rise up and do better…"
A DEI tip sheet encourages people to signal to others how important DEI is to them and how seriously they view microaggressions: "Include DEI in intro's (DEI is important to me…I wish microaggressions didn't happen, but when they do I want everyone to know that I'm here to debrief whenever that is helpful…)." [Italics in original.]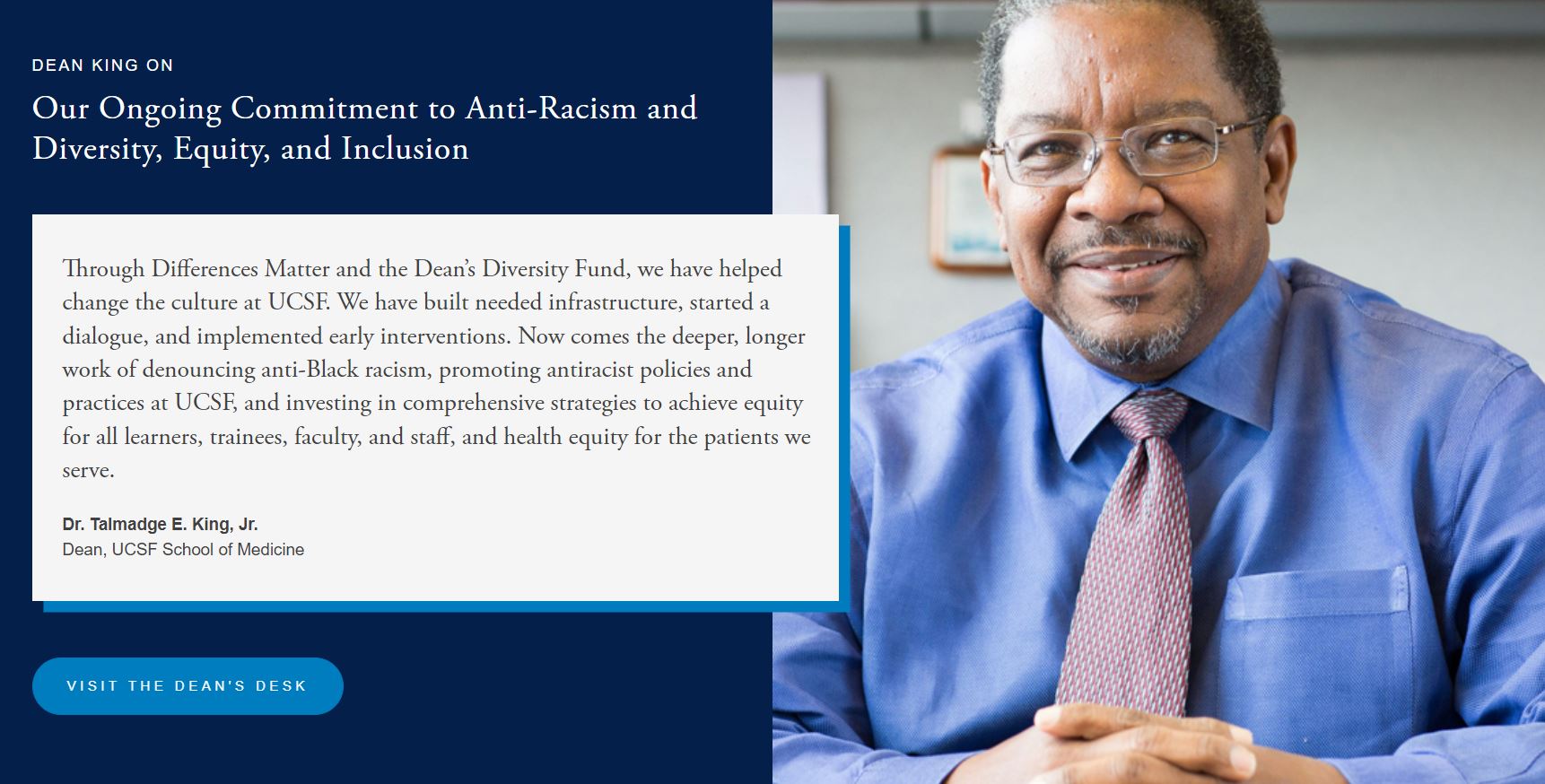 The medical school also provides a document titled "Anti-Racism and Race Literacy: A Primer and Toolkit for Medical Educators." Its expectations are spelled out on the top-rated medical school's website.
Beyond reiterating many of the standard DEI and anti-racism tropes articulated elsewhere on the UCSF School of Medicine site, the authors of the anti-racism toolkit also make several specific recommendations for educators to integrate DEI and anti-racism ideology into their pedagogy and curricula.
The authors repeatedly emphasize the difference between race and genetic ancestry, and how the former is an imperfect proxy for the latter, which, although correct, disregards that race may sometimes be a useful proxy for genetic ancestry if an individual's genetic ancestry is unknown.
They encourage the development of structural competence, which they define as "a trained ability to recognize that individual health outcomes represent in large part the downstream consequences of up-stream structures that produce and maintain illness and health."
"Identifying these structural forces is essential for decoupling false notions of race as biologically based, avoiding blaming of communities and individual behavior for poor health outcomes, and identifying solutions targeted at the structural drivers of health disparities," the authors state.
For a practical example, they discuss the historical case of "Type II Diabetes incidence in Indigenous Americans in the US."
"When viewed through a narrow lens, the increased incidence was attributed to 'lifestyle changes' (e.g. unhealthy diets, lack of exercise). A structural lens reveals the powerful factors that shape and influence individual behaviors leading to increased diabetes incidence, including lack of grocery stores in a given neighborhood or on a reservation, lack of access to spaces for exercise, both of which resulted from land dispossession, housing discrimination, and red-lining."
The authors do not state, however, how acknowledging these possible factors negate the impact of poor diet and lack of exercise on one's risk for type-II diabetes or what doctors are supposed to do about land dispossession, housing discrimination, or red-lining.
The three co-authors of the document, Drs. Meghan O'Brien, Rachel Fields and Andrea Jackson, were contacted via email for clarification by The College Fix, but did not respond.
In a phone interview with The College Fix, Dr. Stanley Goldfarb, the former associate dean of curriculum at the University of Pennsylvania's Perelman School of Medicine who now leads Do No Harm, broadly criticized the approach to medicine that the UCSF School of Medicine appears to have embraced.
"There [has] been a movement in medicine about, you know, embedding more and more social topics into medical education and it [is] being done in the name of allowing students to treat patients better," Goldfarb said. "But there was no real linkage between knowing about, you know, the housing situation in a community and being able to make patients feel better if they had a medical illness."
Goldfarb is author of the recent book "Take Two Aspirin and Call Me By My Pronouns: Why Turning Doctors into Social Justice Warriors is Destroying American Medicine."
MORE: New policy to force Indiana University med school faculty to push diversity, equity and inclusion
IMAGES: UCSF School of Medicine
Like The College Fix on Facebook / Follow us on Twitter