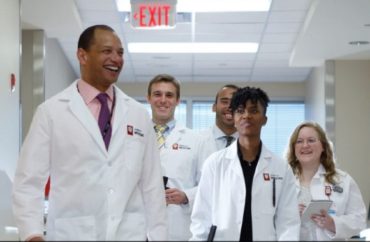 Boost tenure chances by giving classes on LGBT awareness to high schoolers
Indiana University's medical school will require professors to prove a commitment to "diversity, equity, and inclusion" as part of their evaluations.
The Faculty Steering Committee at the IU School of Medicine voted in favor of legislation "requiring faculty to report activities in diversity, equity, and inclusion."
The new requirement will be "phased in over the next three years," according to an announcement from the university.
The College Fix reached out twice via email in the past week to the med school's executive director of faculty affairs, Neelam Chand, and the media relations team, but neither responded to requests for comment. The Fix asked for an update and what the next steps are for this initiative.
The new policy requires "candidates for promotion and/or tenure [to] demonstrate efforts to promote diversity, equity and inclusion," according to the faculty affairs website.
Some possible ways to qualify as sufficiently diverse could include the creation of "workshops for high school students to address LGBTQ+ awareness and resources" or taking classes on "microaggressions, unconscious bias, upstander training; culturally relevant mentoring; inclusive teaching," according to a sample list.
"Faculty members would be required to show effort toward advancing DEI in at least one mission area for which they are evaluated," a news release stated. This would be accomplished "by including a short narrative DEI summary in their personal statement and by listing DEI-related activities on their CVs."
Additionally, the proposal outlined that the DEI activities would not be required to be in "the faculty member's area of excellence," and the requirement could be fulfilled through "professional development activities."
Former medical school dean warns against proposal
A doctor and former medical school dean at the University of Pennsylvania told The College Fix that this DEI requirement should be retracted and opposed.
"A DEI requirement forces faculty to prove their commitment to a political cause – in this case, the divisive ideology of identity politics," Dr. Stanley Goldfarb told The Fix through a media representative. "This med school mandate will stifle professors' academic freedom and inject politics into medical education. Professors, medical students, and ultimately patients will suffer the consequences."
Goldfarb created a nonprofit called "Do No Harm" to advocate against the inclusion of woke ideology, such as "anti-racism" into med schools.
He suggested ways that opponents could fight back against the mandate.
"Professors should speak out as respectfully yet forcefully as they can," he told The Fix. "They should also contact their state lawmakers and congressional delegation, who fund medical schools with taxpayer dollars."
"The sooner the public learns that ideology is corrupting medical schools, the sooner we can all put a stop to it," he stated.
Medical professionals do not need specific diversity training to serve their patients, according to Goldfarb. Nor are such mandates needed to attract faculty of different racial backgrounds.
"The whole point of medical education is teaching students to care for each patient as an individual, regardless of who they are or what they look like," he told The Fix.
Diversity requirements tell "future physicians to view patients as part of racial, ethnic, and gender groups."
Instead, med training programs "should help students provide the best and most personalized care, not put patients in predetermined boxes."
"Furthermore, they don't have to add DEI to their recruiting to recruit the best people, they just need to recruit the best people unrelated to skin color," he said.
The Foundation for Individual Rights and Expression also sent a letter on July 11 in opposition to the new requirements.
MORE: Faculty diversity proposal fails at University of Washington
IMAGE: IU School of Medicine
Like The College Fix on Facebook / Follow us on Twitter