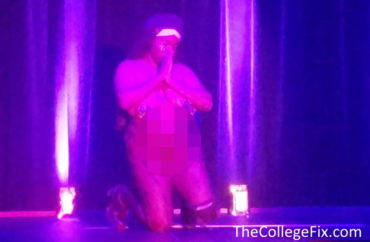 Performance one of several acts in event sponsored by college drag club
HANOVER, N.H. — A burlesque performance featuring a dancer dressed as a nun was one act among many Saturday at an event at Dartmouth College hosted by a student drag club.
The roughly three-minute dance began with the performer — who goes by "they" with a stage name of "Grim Noir" — kneeling. Then the dancer gyrated on a chair and stripped off their black robe, revealing tights with crosses on them and pasties covering their nipples.
Performed to the song "Sinners," the dance concluded with the performer touching their breasts and swinging a rosary around in the air before ending in genuflection.
It was one act of a one-hour show that drew more than 100 students to Collis Common Ground, a venue in the center of campus. It was hosted by House of Lewan, which bills itself as the college's "first recognized drag club."
(Editor's note: Graphic images of the performance can be viewed below the "read more.")
House of Lewan offers "free, all-inclusive drag workshops," according to a May 2022 article in The Dartmouth, the campus newspaper.
Saturday's performers, a mix of students and professionals, included a gender-bending ballroom dance team, dancers who stripped off their clothes, and two notable drag queens.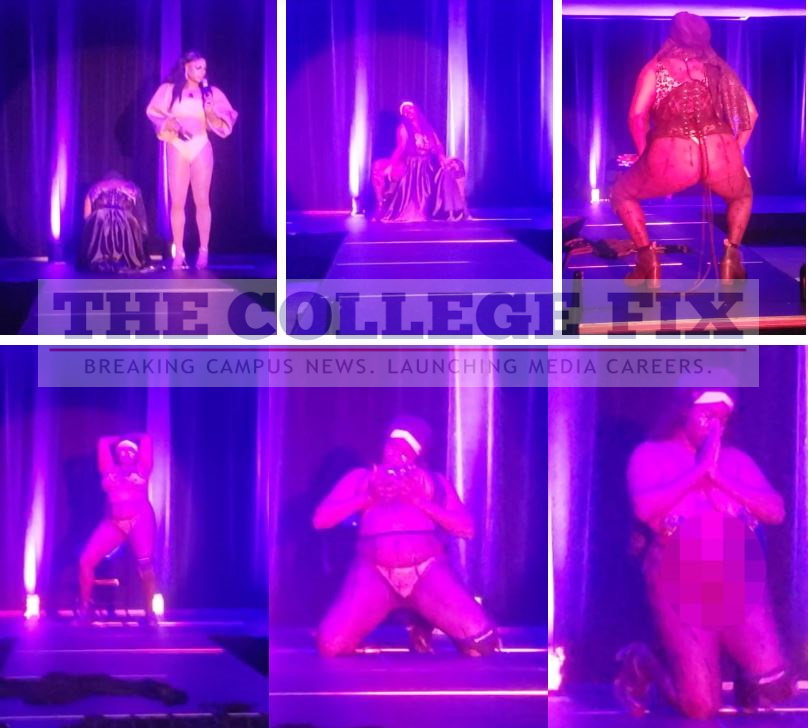 "Drag means self expression and I do it for the community," guest performer Rhedd Rhumm, who hosted and introduced student performers, told The College Fix. "One of my big things about being a drag performer is being able to be on stage and create, to create a space of happiness, a space of family, and a space of community."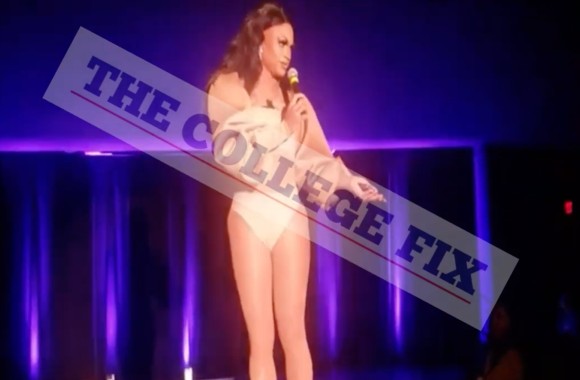 Rhumm (pictured) is a "HIV Advocate/LGBTQ Health Educator/Community" and "Your Friendly Neighborhood Drag Queen!" according to their Instagram bio.
Drag performer Candace Persuasion also served as host. Persuasion uses "she/her" pronouns and is a "Boston based doll," according to Instagram.
Asked by The College Fix after the event why it's important to have drag on campus, Rhumm said "representation" and "visibility."
"When it comes to being a queer, when it comes to being LGBTQ in any space, it's always good to see people like yourself, to see yourself reflected, to see yourself in a space where you may not usually see yourself," Rhumm said.
Rhumm cited states that are "very white-washed," and have parts that are conservative and Republican.
"Some students may be living in that situation so they may not have the chance to see themselves," Rhumm said. "So when it comes to drag shows like this, coming to colleges in Vermont, New Hampshire, the New England area, that representation really matters because people get to see themselves being themselves and loving themselves."
'There are those sect of drag queens who will cater to youth, just to children'
"When it comes to drag, it can be for anybody," Rhumm said. "I will say that drag was brought up in the night life, so inherently it is for adults, because drag queens will do whatever they wish, but there are those sect of drag queens who will cater to youth, just to children, because they want to foster that environment of positivity, representation and visibility."
Richard Lai, a student performer, told The College Fix in an interview after the event that "I think that drag is freedom of queer expression."
"It's like a queer art and it doesn't need to be limited to a man turning into a woman or a woman turning into a man. It's just any sort of expression of queer identity on the stage and being bold and brave about it," Lai said.
Sarah Swenson serves as House of Lewan's faculty advisor, Lai said. Swenson is an assistant professor in the Dartmouth Department of Religion who has taught a course in "Buddhism, Gender, and Sexuality in Southeast Asia," according to her faculty bio.
The crowd seemed to enjoy the show on Saturday night. Videos obtained by The College Fix show them clapping, laughing and cheering.
"I've been to a few drag events put on by Dartmouth and I think that was one of the more interactive ones," audience member Emily Henrich told The Fix. "It was really good. We all really enjoyed it. We're on the rugby team and we brought a lot of our freshmen and I think they all really enjoyed it as well."
READ MORE: Tennessee Tech theater group hosts Christianity-mocking drag show
IMAGE: Chloe Ezzo for The College Fix
Like The College Fix on Facebook / Follow us on Twitter