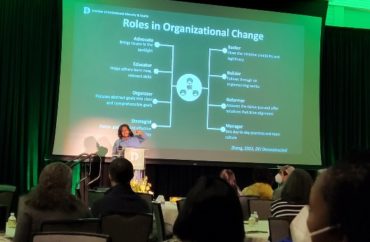 Equity means 'leveling the playing field,' top diversity officer said
HANOVER, N.H. — Dartmouth College hosted an event Jan. 31 to launch a three-year institutional program called "Towards Equity: Aligning Action and Accountability," dedicated to promoting diversity, equity, inclusion and belonging.
The College Fix attended the event along with approximately 125 people, mostly Dartmouth administrators and professors.
A document sent to all attendees outlines DEI initiatives Dartmouth is planning for the coming years, including establishing an Institute for Black Intellectual and Cultural Life "following the national racial unrest in 2020," according to the document.
Additionally, Dartmouth aims to increase the number of faculty of color, provide more resources for underrepresented minorities in STEM, and implement DEI training for all leaders on campus.
"The weight of systemic forms of oppression are heavy," Shontay Delalue, who led the development of the three-year initiative, told the group at the event.
Delalue is senior vice president and senior diversity officer with the Dartmouth Division of Institutional Diversity and Equity. She has a doctorate in education and is an adjunct assistant professor of African and African American Studies, according to her university bio.
To Delalue, equity means "leveling the playing field" and giving people what they need as opposed to "giving everybody the same thing," which she would define as equality, she told The Fix in an interview. "Equity is making sure that in policies and practices that people who have not been given access in the past are now getting access, so it's leveling the playing field, not just making sure everybody has the same exact thing."
She acknowledged that progress has been made, noting the Civil Rights Act.
'Let's all just agree that the business case has been made for DEIB'
"We are all gathered today with some semblance of hope for what we can do here at Dartmouth to dismantle systems that negatively impact groups based on their race, gender, religion, ability, sexual orientation, income, and the like," Delalue said at the event.
Delalue said the benefits of DEIB have been proven by "countless research."
"Particularly in an academic setting when you bring people together from different backgrounds, it yields more creativity and innovation, which is at the core of academic excellence … so let's all just agree that the business case has been made for DEIB."
Delalue cited recent mass shootings in California as well as "the recent murder of another unarmed Black man, Tyre Nichols," who was killed by black police officers, as reasons why DEIB initiatives are important.
She described the "heavy burden" associated with having a marginalized identity, which can render people "both visible and invisible." She cited characteristics such as "your skin color, who you love, your hijab, your wheelchair," which could also lead to consequences such as being "passed up for jobs, followed in stores, assumed incapable of completing tasks."
Effective DEIB "focuses on valuing lived experiences and acknowledging the systems that serve to subjugate individuals based on their real or perceived identities," Delalue said.
"I identify as a Black woman," she said. "I live in a society where I am faced daily with the persistent nature of racism and sexism. Here are just a few examples: Women are paid 83 cents to every dollar paid to men. Women retire with 30 percent less income than men on average. These are 2020-2021 statistics."
When asked about how racism affects her personally, Delalue said, "I am saying that there are systems, so the original founding of the country had people of African descent enslaved, and from that enslavement, there were other laws that were literally put into place, Jim Crow, other types of laws that said 'You can't go here. You can't do this. You can't do that.'"
"Black, Hispanic, American Indian, and Alaskan Native people have experienced the highest age adjusted Covid-19 deaths amid each resurgent period," she continued. "Black women in New York City, just 45 minutes from where I grew up in New Jersey, are nine times more likely to die from pregnancy-related complications than white women."
The Fix contacted Delalue via email requesting the names of the studies she cited but has not received a response.
Chloe Poston, a chemist and associate vice president at the Office of Institutional Diversity and Equity, also spoke on how everyone at Dartmouth from students to professors can play a role in encouraging DEI by acting as an "advocate, educator, organizer, reformer, builder, or a backer."
College president Phil Hanlon told The Fix intellectual diversity matters, cited partnership with senior citizens' organization
When The Fix asked Dartmouth President Philip Hanlon, who also spoke at the event, whether he believes intellectual diversity is important, he replied in the affirmative.
"I know that my office, the Dickey Center, and Rocky [The Rockefeller Center] have been partnering with the Dartmouth Political Union to try to bring in a variety of speakers, and we particularly try to mount debates rather than single speakers," he told The Fix in an interview.
When asked what kinds of debates come to mind, President Hanlon cited a series of debates in summer 2019 when Dartmouth worked with a group called Osher Lifelong Learning Institute.
"All Osher Institutes offer a wide variety of intellectually stimulating, university-level, non-credit courses and learning opportunities designed for people '50 and better,'" according to its website.
MORE: DEI credentialing 'explosion': Dozens of colleges offer new qualifications in diversity
IMAGE: Chloe Ezzo for The College Fix
Like The College Fix on Facebook / Follow us on Twitter