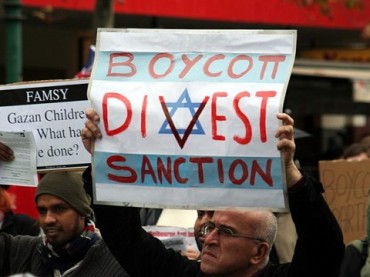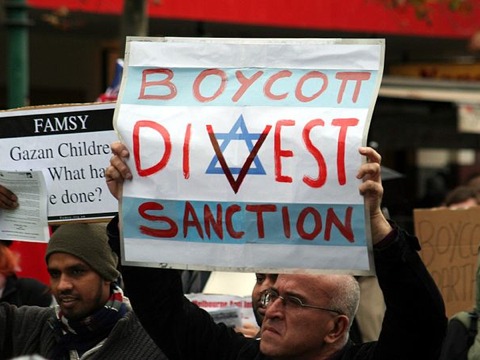 'Gender liberation' same as fighting 'colonialism'

DePaul University and Northwestern University groups are joining the seemingly endless Israel divestment movements, while unrelated feminist, transgender and Chicano groups jump on the bandwagon to push their own agenda.
Though DePaul Divest has not yet introduced its resolution to the student government, it has started circulating a petition calling for the university to "uphold its Vincentian values by divesting from Israeli occupation of Palestine."
The slogan for the campaign, which started late last month, is "What Would Vinnie Do?"
DePaul Divest declared victory last May after just 10 percent of the student body narrowly voted in favor of a divestment referendum, though the administration ignored the vote, The College Fix reported then.
The referendum question asked students if they thought DePaul should "divest its funds from companies that profit from Israel's discriminatory practices and human rights violations," including Hewlett-Packard and Caterpillar.
DePaul Students for Justice in Palestine (SJP), the group sponsoring divestment, did not return requests for comment. It hosted a fundraiser last week for Rasmea Odeh, convicted in 1970 for bombing a Jerusalem supermarket and killing two Hebrew University students.
DePaul's student body president, Matthew von Nida, told The Fix by email "I neither takes sides nor personally comment on resolutions that come before the organization."
The SJP chapter submitted a report to DePaul's Fair Business Practices Committee (FBPC), which is tasked with taking complaints about the school's contracts and contractors, asking it to recommend divestment, according to a press release by the group.
The committee met Jan. 23, but no decision has been released yet.
FBPC spokeswoman Carol Hughes told The Fix in an email that it received a "case request" but could not disclose any details.
The committee is reviewing investment practices and plans to study divestment more closely in the spring, Hughes said. The office hopes to have its fund managers in line with new "responsible investment" principles – known as PRI – from the United Nations, which incorporate "environmental, social, and corporate governance" issues.
"We will continue to learn about PRI  and explore the ways in which PRI affirms human rights, and we encourage the university community to do the same," said Hughes.
Hughes said divestment has raised "a number of important questions" about how longstanding conflicts and "determinations of material cooperation in such circumstances" should be handled.
DePaul's Hillel chapter did not respond to requests for comment.
Fighting racist queer-haters
Other progressive groups are supporting DePaul Divest.
Triota, which describes itself as the "Women and Gender Studies Honors Society," is supporting divestment because it is linked to "our own struggles as feminist, anti-racist activists," according to DePaul Divests' testimonials page.
Trans*formation, which represents "trans* and gender nonconforming students and allies," likewise associates "gender liberation" with the divestment movement goal of "challenging racism, militarism, and settler-colonialism."
Feminist Front released a video in support of divestment at DePaul as well. One leader of the group accuses Israel of "targeting women" through "violence, kidnapping, and rape."
"It's a queer issue" when the Israeli Defense Forces "target queer folks with blackmail" and then cover it up through "pink washing," notes another leader of the group. It claims to support divestment because it aligns with the Vincentian values its members also support.
Municipal police departments trained by 'Israeli military'?
A few miles north in Evanston, some Northwestern students are pushing for Israel divestment as well.
Northwestern Divest calls itself "a grassroots, student-led campaign," which asks Northwestern "to divest from corporations that are profiting off of the illegal occupation of Palestinian lands." It also supports the boycott, divestment and sanctions (BDS) movement.
It's also getting support from progressive groups like MEChA de Northwestern, a Chicano student group, which seeks "to open the doors of higher education para nuestras comunidades [our communities] and strive for a society free of imperialism, racism, sexism, and homophobia," according to its national website.
One student even claimed the St. Louis and New York police departments "were both trained by the Israeli military … If black lives matter than Palestinian life must also."
That appears to be a reference to the Anti-Defamation League's National Counter-Terrorism Seminar in Israel, which says that more than 175 "law enforcement executives" have participated in sessions to learn about Israel's tactics and strategies to fight terrorism since 2004.
Palestinian activist website Electronic Intifada claims that a St. Louis County police chief attended one of these seminars in 2011.
Northwestern Divest declined to comment "at this time," the group told The Fix by email.
A continuation of Jim Crow policies
Emiliano Vera, a Northwestern student, told The Fix in an email he started supporting divestment after meeting Palestinian students and learning "about liberation movements historically and ongoing."
He learned how Israel's occupation constituted a "violent campaign of complete removal and disenfranchisement of a native population by colonizers," like the "slaughter of Native Americans," "Jim Crow USA" and "apartheid South Africa."
Vera argued that universities including Northwestern and DePaul "directly profit from investing in companies that are getting rich off of the blood of thousands."
Northwestern Divest's resolution says the school's investments include "7.9 billion of University assets, significantly contributed to by student tuition and fees, which totaled $546.3 million in 2014."
It's not clear tuition and fees actually go into investments, though: The Northwestern Investment Office's website says endowment growth "over the past 20 years is the result of new gifts, Treasury transfers, and capital appreciation, minus cumulative yearly spending."
The Investment Office did not respond to requests for comment.
NU Coalition for Peace, a newly formed pro-Israel group, told The Fix in an email it would prefer the Associated Student Government not be involved in political questions, especially about such complex questions as Israeli-Palestinian relations.
The group would prefer "educational sessions and programming about the conflict and on issues" such as settlements and a two-state solution.
"Just as there was a Palestine 101 [an event hosted by Northwestern Divest] we would like our campus to be educated on the other side of the conflict as well, within a larger historical context," the group said.
Promoting 'co-resistance,' not 'co-existence'
The battle is spilling over into the ivory tower, as Northwestern professors are lining up on one side or the other.
In a Jan. 29 op-ed in the Chicago Tribune, law professor Steven Lubet asked if Northwestern Divest wanted respect for Palestine or just to demonize Israel.
Lubet accused the group of wanting to "delegitimize Israel" by supporting the BDS movement, which can include opposing Israeli-Palestinian conferences and academic discussions.
He said BDS guidelines would only allow for joint programs which "promote 'co-resistance' rather than 'co-existence.'"
Lubet also faulted Northwestern Divest for trying to link Israel to the deaths of Michael Brown in Ferguson and Eric Garner in New York.
"While some American police officers have attended programs in Israel — as they have in Britain, France and elsewhere" – neither officer involved in those deaths "had ever received Israeli-based training in firearms or chokeholds," he said.
Uri Horesh, another professor, responded in a Tribune letter: "Lubet explicitly expresses his apprehension that NU Divest may spread its message beyond the Greater Chicago area." Horesh believes "debate and political awareness are good for a university."
College Fix reporter Matt Lamb is a student at Loyola University-Chicago.
Like The College Fix on Facebook / Follow us on Twitter