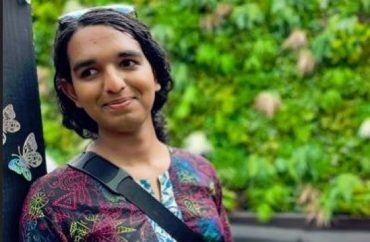 Is tired of debating the right of trans folks 'to exist.'
In a recent letter to the Stanford University student paper editor, a transgender PhD student says "she" is tired of debating the right of trans folks "to exist" … and wants hormones "handed out like Skittles."
Adi Mukund, who's studying biophysics, says in "her" Stanford Daily linked-filled letter that "sex is more complicated than a simple binary," and that children "know their gender identity, do not transition on a whim, rarely stop, are able to make the decision to transition."
Mukund also claims that persuading people who are considering gender transition is "harmful," that allowing trans females to use women's restrooms "will not lead to predators harassing women" and that the presence of trans females in women's sports "benefits teams and athletes."
Accepting anything to the contrary is to believe in "silly myths," Mukund says.
Would you like to know what we mysterious and unknowable transgender beings want instead? We would like to not be murdered for simply existing. We want our gravestones to have our actual names. We want enough food to eat. We want housing. We want to be paid fairly for our labor. We want to be able to go to the doctor. We want to survive.

No, we want to thrive. We want hormones handed out like skittles. We want to play with our appearance like a cat with a toy. We want piercings and tattoos and blue hair and leather. We want to try out new names every hour. We want to use all the pronouns you've heard of, and all the genders you haven't. We want to be beautiful, we want to be sexy, we want to Chili's-Awesome-Blossom our way to a happy new vagina, we want to take the big dick. We want to create filth, to be gay and do crimes, to make your favorite characters all trans. We want our parents to love us, and we want our children to dream. We want liberation.
Mukund was serious about using "all the pronouns you've heard of"; "her" Twitter bio says Mukund goes by "she/her" pronouns, but a Stanford Daily article from two years ago had to issue a correction to note Mukund's pronouns were "they/theirs."
Mukund is a staff member of Stanford's Queer Student Resources and plans to work in the area of LGBTQ+ health upon graduation.
MORE: Parents protest plan by pediatricians to rush sex-change surgery, hormone blockers
IMAGE: Adi Mukund / Twitter screencap
Like The College Fix on Facebook / Follow us on Twitter