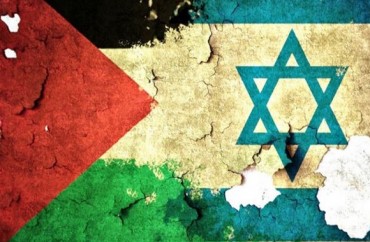 It was bad enough when reports surfaced late last week about a rowdy group of Students for Justice in Palestine activists at UC Irvine who descended on a pro-Israel event, blocked the exit paths, chanted "Long live the intifada," and prompted attendees to fear for their safety and call campus police for assistance.
But it actually gets worse.
The New York Observer reports that a female student fled in fear of anti-Israel activists who followed her into a building. Sophomore Eliana Kopley had arrived late to the event, and was met by the angry crowd there, already pounding on the doors and windows. "I was terrified. There is no other word to describe how I felt," Kopley said. The Observer reports:
As the mob tried to gain entrance to the event, one protestor shouted, "If we're not allowed in, you're not allowed in!"

With the crowd physically forbidding Ms. Kopley from attending the event and chants inciting violence against Jews and Israel such as "Intifada, Intifada—Long live the Intifada!" and "F**k Israel!" Ms. Kopley walked away from the scene.

But she was not alone. A group of female students followed her as she escaped to safety in the room nearby.

"When I turned back, at that moment, I looked at one of the girls and wanted to hide and cry," Ms. Kopley said.
The female student called 9-1-1 and was eventually helped into the event by police. There, she broke down and cried. Since then, she missed a class due to safety concerns, the Observer reports.
A video on Facebook of the demonstration was also included in the report. In addition to yelling "long live the intifada," — protesters also chanted "fuck the police" and "fuck the borders – we don't need them."
UC Irvine Chancellor Howard Gillman has denounced the protest as having gone too far. SJP has not responded to multiple requests for comment from the Observer.
Like The College Fix on Facebook / Follow us on Twitter
IMAGE: Shutterstock