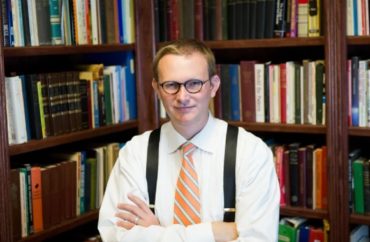 Students will learn about the 'morals and values of good and ethical business'
Troy University students this fall will have an opportunity to learn about moral and anti-woke business practices thanks to a free market center on campus.
"The Free Enterprise Scholars program seeks to educate undergraduates about the morals and values of good and ethical business," Professor Allen Mendenhall told The College Fix.
The program will be hosted through the Manuel H. Johnson Center for Political Economy where Mendenhall is the executive director.
The business professor explained the problem with corporations pushing liberal policies:
When businesses advocate 'woke' policies and leftist social justice initiatives they seem to be responding to criticisms, real or imagined, that companies don't contribute to society simply by producing goods and services, creating jobs, or improving the lives of their shareholders, investors, employees, and consumers.
Founded in 2010, the Johnson center's mission is to teach undergraduate business major students about the moral uprightness of a free economy.
The program will include numerous activities and books to foster a free-market mindset amongst students. "Our program will teach a wide range of texts, from Jim Otteson's Seven Deadly Economic Sins to Vivek Ramaswamy's Woke, Inc.," Professor Mendenhall (pictured) told The Fix. "Students will read and discuss books in an extracurricular reading group, listen to and meet with monthly speakers, and receive training on op-ed writing."
"I don't expect everyone to like our project or agree with it, and I welcome constructive criticisms and debate," Mendenhall said when asked by The Fix about potential opposition to his project. "I've received responses of opposition and support from both friends and strangers. That's to be expected. I'm fortunate to be at Troy University, where the administration has supported me and my efforts."
MORE: West Point is going woke, alumnus warns
Troy University's media relations team did not respond to two requests for comment on the new initiative sent in the past two weeks.
However, the dean of the business school, Judson Edwards, stated in a news release that he wanted to see the program grow. "We are confident the Free Enterprise Scholars will grow expeditiously and provide a needed platform for open dialogue about the ever-increasing number of employees being negatively impacted by intolerant environments found in much of corporate America today," Dean Edwards stated.
Mendenhall told The Fix that Professor Daniel Sutter, the director of research and academic programs for the center, "deserves much of the credit" for the new project.
"He and I both read Ramaswamy's Woke, Inc. around the same time and were on the same page about showing young people the dangers of sliding down the slippery slope toward wokeism," Mendenhall said in his email. "One of those dangers, of course, is ethical: Just look at the allegations against BlackRock CEO Larry Fink's asset management strategy." Blackrock has come under criticism for its embrace of "environmental, social and governance" standards for investing, which some say place a liberal political agenda over maximizing returns for investors.
Mendenhall explained:
If you're a Christian conservative civil servant or public-school teacher, you may not be aware that an asset management company or proxy advisors are investing your hard-earned retirement money not where it will yield the most returns, but where it will influence social causes (like ESG). You may be inadvertently contributing to causes with which you disagree. This situation raises serious ethical questions about conflicts and interest and breaches of fiduciary duties.
The Fix reached out to Professor Sutter for more information on his goals for the program.
"I hope that our Free Enterprise Scholars will understand how commerce creates value and that business conducted honorably is a moral activity," he told The Fix in an email. "We hope to teach them about the doux commerce thesis and how business is a civilizing force and can allow people who differ to cooperate without either party forcing their values on the other."
Sutter hopes to address the deficiencies in what is taught about business and that those enrolled in the program will internalize the values that the Free Enterprise Scholars program teaches as well.
MORE: Educators mount a resistance against oppression dogma dominance
IMAGE: AllenMendenhall.com
Like The College Fix on Facebook / Follow us on Twitter