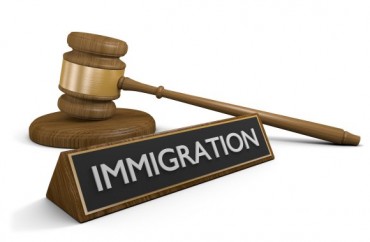 Universities and state governments continue to prioritize undocumented students, allowing them to pay in-state tuition and even exempting them from some university policies.
As the Trump administration's Department of Homeland Security mulls abolishing the Deferred Action for Childhood Arrivals program, state governments and universities continue to offer benefits and advantages to illegal immigrant students.
The DACA program, which was created through an executive action signed by former President Barack Obama in 2012, shelters many young people, also known as "Dreamers," who are in the country illegally.
Among other qualifications, Dreamers must be under the age of 31 as of June 15, 2012, arrived in the United States before the age of 16, and have not been convicted of a felony or serious misdemeanor in order to be protected by the DACA program.
More than 800,000 young illegal immigrants have been protected by the program since its initiation five years ago, according to recent data released by U.S. Citizenship and Immigration Services.
Yet it is not yet clear whether the DACA program will remain under the Trump Administration.
"The future of the DACA program continues to be under review with the Administration," Department of Homeland Security spokeswoman Joanne Tablot told The College Fix via e-mail. "With regard to DACA, the President has remarked on the need to handle the issue with compassion and with heart."
The Department of Homeland Security on June 15 rescinded the memorandum that created the Deferred Action for Parents of Americans and Lawful Permanent Residents program. That DAPA program, which was never implemented, sought to shelter illegal immigrants who had a son or daughter who is a U.S. citizen or lawful permanent resident.
The memorandum did not alter the status of the DACA program, and Talbot told The Fix: "The fact that DACA was not rescinded by the same memo should not be interpreted as bearing any relevance on the long-term future of that program."
The long-term uncertainty of DACA notwithstanding, illegal immigrants have received, and continue to receive, special advantages and priorities from universities and state governments across the country.
The University of California Board of Regents, for instance, passed a policy on May 18 which capped the number of out-of-state students allowed to enroll in UC colleges. The new policy holds that only 18 percent of students can come from out-of-state.
However, in early June, The College Fix learned that students in the country illegally are exempt from the effects of the 18 percent cap.
"The caps do not apply to undocumented students," UC spokeswoman Claire Doan told The College Fix via email at the time. The University of California estimates that 3,700 undocumented students are in the UC system.
The University of California already offers DACA students in-state tuition rates, which can be half the cost of out-of-state rates.
In a similar vein, lawmakers in Rhode Island are offering undocumented students advantages not extended to legal United States residents.
Rhode Island state Rep. Grace Diaz proposed a bill last month which would allow illegals to to pay in-state tuition at public universities or colleges.
The bill would allow undocumented students who live in Rhode Island to pay the same tuition rate as legal residents of the state. The students must have completed at least three years of high school in Rhode Island and sign an affidavit pledging to work toward citizenship.
Currently, a total of 20 states offer in-state tuition to illegal immigrant students. In addition, many private colleges like Tufts and Emory provide significant financial aid to undocumented students.
In contrast to these various advantages, individuals protected by DACA had a setback in Arizona last month, where the Appeals Court ruled on June 20 that undocumented students are no longer eligible for in-state tuition.
The ruling overturned a 2015 lower-court decision that young undocumented students were considered legally present in the U.S. and therefore can qualify for state benefits like in-state tuition.
More than 2,000 DACA students are currently receiving lower, in-state tuition rates between the state's universities and Maricopa community colleges.
Arizona Dream Act Coalition Board President Karina Ruiz has vowed to fight the Arizona Appeals Court's recent decision.
"We must come together and work to defeat this unjust law. Justice shall prevail!" said Ruiz in a statement provided to The College Fix.
Ruiz was referring to Proposition 300, passed in 2006, which provides that university students who are not U.S. citizens or permanent residents are not eligible for in-state tuition rates.
The Appeals Court's ruling will not go into effect just yet.
"The Arizona Board of Regents have already stated that they will keep the in-state for DACA until the decision from the Arizona Supreme Court comes out," Ruiz told The Fix.

But Ruiz is still not satisfied. "To us this is not enough, they have hundreds of students that will be affected and we are asking the Board of Regents to join in an Amicus Brief to formally support the lawsuit with the Maricopa County Community College District," she told The Fix.
MORE: Emory University to pay '100 percent' of the financial need of students in country illegally
MORE: University of California caps out-of-state student enrollment — excludes illegal immigrants from policy
Like The College Fix on Facebook / Follow us on Twitter
IMAGE: Shutterstock