UPDATED
Influential higher ed economist: 'I do think Trump is a smart guy'
WASHINGTON, DC – On the cusp of a new administration that could shake up the U.S. Department of Education, higher education experts debated whether President-elect Donald Trump should be kinder to for-profit colleges than his predecessor.
The question that no one could confidently answer at a Cato Institute panel discussion Wednesday, though, is what the namesake of embattled Trump University will do about higher ed.
Experts disagreed whether it was fair for the government to penalize the for-profit industry and its accreditors, particularly when students in nonprofit colleges seem to be getting so little learning with their federal student loans.
MORE: Michigan sends welfare money to private colleges to get federal grants
Higher ed economist Richard Vedder, who has recently criticized his own university's performance and priorities, told The College Fix after the panel that college should be treated like any other investment.
He said that Purdue University President Mitch Daniels' recommendation that private investors fund college educations is "an idea that's time has come."
More efficient, or more driven to grow at any cost?
For-profit colleges have been under siege by the Obama administration in recent years.
The department cut off access to federal student loans for two for-profit chains that have since collapsed, and in September it stopped recognizing a major for-profit accreditor, the Accrediting Council for Independent Colleges and Schools.
It's a mistake to think that a profit incentive helps students, because education is not like other industries that respond positively to a free market, said Robert Shireman, senior fellow at the progressive Century Foundation, on the "Awful or Abused?" panel.
"For-profit companies are held accountable by their shareholders. That works incredibly well for certain things," Shireman said. "It has not, for hundreds of years, worked for education."
While other products have a clear value to the consumer, education's value is harder to quantify, he said: For-profit colleges face a "market failure" because students can be conned into buying a low-quality or worthless education.
For-profits have been "unfairly criticized," countered Vedder, director of the Center for College Affordability and Productivity.
A vocal critic of "free" community college plans, Vedder said for-profits tend to serve low-income first-generation Americans, which he sees as "an admirable goal."
MORE: 17 reasons why Obama's 'free community college' plan is a really bad idea
They also "tend to be more efficient" because of the profit motive, he said, and they don't take federal grants and do pay taxes – the reverse of nonprofit schools.
Vedder said for-profits tend to have higher graduation rates than nonprofits, citing the University of the District of Columbia's 15 percent graduation rate compared with 23 percent for its next-door neighbor in the Van Ness neighborhood, Strayer University.
More importantly, he said, students who attended for-profit institutions ended up with a higher income in the long run, even in his prior example of UDC and Strayer.
That's an "apples to oranges" comparison, shot back Ben Miller, senior director of postsecondary education at the liberal Center for American Progress: For-profit colleges tend to have shorter programs that are easier to complete and are not necessarily as valuable.
The fact that they take federal money distorts the competition dynamic that would exist in a free market, he continued: For-profits aren't incentivized to improve performance or outcomes but rather grow number of students.
MORE: Peter Thiel, Richard Vedder critique higher ed spending
Particularly with investors pushing a for-profit college to expand reach and improve profits, "the model is out of whack," Miller said.
"The subsidies are absolutely what throw out people's incentives" – but that's true for nonprofit colleges as well, retorted Neal McCluskey, director of Cato's Center for Educational Freedom.
Trump education policy will be 'more rational and objective'
Experts sharply disagreed why the for-profit industry became such a target of the Obama administration and whether it was appropriate.
Vedder said for-profits were "discriminated against," while Shireman believes they provoked strict regulations and unfavorable policies simply by claiming they had been the victim.
MORE: Richard Vedder says his outgoing president let Ohio U. fall in the toilet
"I think history will show this was about the for-profit institutions shooting themselves in the foot by making themselves the target," Shireman said without elaborating. "Do you have one iota of data to support that?" shot back Eric Juhlin, CEO of the free-market Center for Excellence in Higher Education.
Looking forward to the incoming president, Shireman said experts "have no idea what will come from this administration on any topic whatsoever." He called Trump University "an interesting test case. It's an example where it collapsed over time because it was a scam."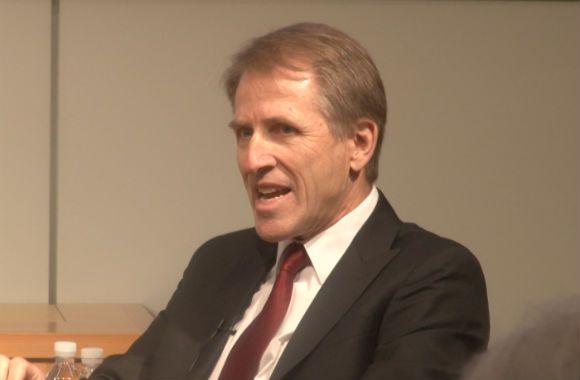 It's "positive" that Trump has previously stated a desire to abolish the Department of Education, Vedder said.
"I do think Trump is a smart guy who will ultimately realize that there's three problems with higher education: Too costly, not enough learning going on, and too few students getting jobs nowadays," he said.
In a more measured prediction, Juhlin said a Trump administration will return to "a more rational and objective perspective with the DOE."
The department is more likely to remove "some of the most draconian regulations that were meant to target specific institutions and advance a political agenda," Juhlin said: "The focus needs to be on outcomes."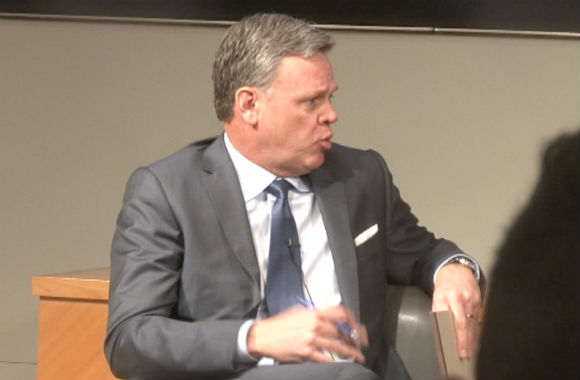 UPDATE: CBS Philly Talk Radio 1210 host Rich Zeoli interviewed Ford Fischer about his story on Nov. 18. The radio segment is embedded above.
Like The College Fix on Facebook / Follow us on Twitter
MORE: Richard Vedder says higher ed bubble starting to burst
IMAGES: hotgor61/Shutterstock, Ford Fischer
Like The College Fix on Facebook / Follow us on Twitter