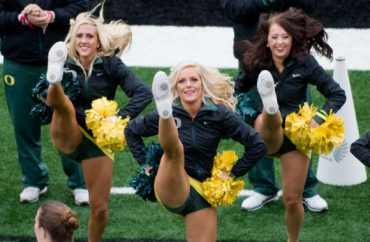 Because they haven't managed to kill cheer squads already, social justice warriors are simply calling their beauty tips racist and, um, sexist.
The University of Washington's cheerleading team, which is holding tryouts later this week, has pulled a poster from its Facebook page with tips for prospective cheerleaders after it drew a social-media backlash, The Seattle Times reports.
What the squad sees as visual consistency and decorum – "bronze, beachy glow" and "flattering eye shadow" but not "too much makeup" or raccoon eyes, and no tattoos or ponytails – its critics see as imperialism:
"One of the first things that comes mind is objectification and idealization of Western beauty, which are values I would like to believe the University doesn't want to perpetuate," [Jazmine Perez, director of programming for student government,]  said. …
RELATED: University investigates cheerleading for promoting rape culture – seriously
Said Signe Burchim, a UW senior: "I think it's really upsetting and kind of disheartening the way it's basically asking these women who want to try out to perform their femininity — but not too much."
The Times says that Washington State University and Louisiana State put similar posters on their Facebook pages, though the LSU poster seems to have been removed since the Times story went up Wednesday. (NBC News still has it.)
RELATED: How the characters in my favorite (30 year-old) college comedy would be disciplined today
One male on Facebook said the UW poster was evidence of "overt racism" in the cheer squad and called it "offensive, exclusionary and ignorant. Those are not values of Seattle or the Puget Sound community."
As someone who lived in Seattle for many years, I can confirm that beauty and femininity are not Emerald City values.
RELATED: College deletes article calling its female students 'pretty' after complaints of sexism
RELATED: Cheerleaders Quote the Bible, Liberals Attack
h/t Inside Higher Ed
Like The College Fix on Facebook / Follow us on Twitter
IMAGE: osubeaver2000/Flickr