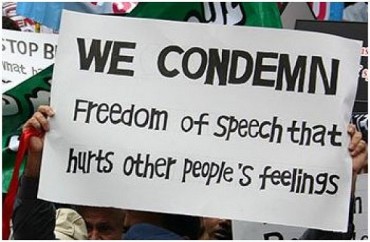 A sweeping free speech resolution has been rejected by Tufts University's student government, whose members called the effort to broaden and clarify students' First Amendment rights "unsafe."
Tufts has a "red light" speech-code rating from FIRE, which means it maintains at least one policy that both clearly and substantially restricts freedom of speech.
Student Jake Goldberg's free speech resolution called for an end to campus anti-free speech rules at Tufts, including vague administrative provisos that crack down on the "use of nicknames," "hurtful words," "bias-fueled jokes," "comments on an individual's body or appearance," "innuendos of a sexual nature," "gender bias," and dozens more similar examples cited in the measure.
But the Tufts Student Senate recently voted 26 to zero with two abstentions to reject the proposal, with some senators saying free speech actually endangers students, and that free speech protections make administrators' jobs impossible.
"I believe everyone's right to access their education on this campus is more important than abolishing the protective restrictions we have on free speech," one student senator declared after the vote.
Prior to the vote, Goldberg tried to sway his peers to support unabridged free speech on campus.
"We just want to make sure these [vague administrative] policies are cleaned up, better defined, and use language that's easy to understand," he said.
Goldberg added that, without the measure passing, administrators can unfairly punish students for exercising their First Amendment rights.
But nearly every single senator voiced opposition to the measure, according to a video of the senate meeting posted on the student government's Facebook page.
Senate President Gauri Seth chided Goldberg for his resolution, saying that "I think clarity in itself is subjective so I don't really know what we're voting on, which is why I oppose this resolution. … I just don't think [the resolution] protects students in the way that it should. I think that actually really harms students."
Nesi Altaras, another student senator, said that "50 percent of students on this campus are not from America, and there are other countries with free speech issues, and some countries handle them better than America. I think saying First Amendment rights, best kind of rights, is not okay."
Student senator Ben Kesslen said that after the resolution was first proposed, "we instantly heard that people were feeling unsafe on campus. Survivors of assault were feeling unsafe, students of color, queer and trans students, disabled students, students from all different marginalized identities, were feeling unsafe on this campus."
"I think what we need to do is listen to those students, center them, build them up, and like not pass this resolution," Kesslen continued. "And I think that what that means is like, by passing this resolution, we are making more students feel unsafe on a campus they already might not feel safe walking on walking through every single day."
MORE: Student attacked by peers upset at his 'racist white cis male' free speech campaign
In a now-deleted Facebook post later that evening, Olivia Dehm, one of the student senators, defended her vote by saying "a certain level of vagueness is necessary" so administrators can tackle issues on a case by case basis.
"I believe everyone's right to access their education on this campus is more important than abolishing the protective restrictions we have on free speech," Dehm's post read.
Patrick Collins, a spokesman for the school, told The College Fix that the institution's policies are valid and do not infringe on students' free speech rights.
"The university's Sexual Misconduct Policy and Non-Discrimination Policy comply with state and federal requirements," he said in an email. "Our student conduct policies are clear, effective and consistent with the university's policies on freedom of expression, which the university recognizes as being fundamental to learning and academic inquiry. Our conduct processes also provide fair and transparent due process to all involved parties."
Goldberg told The College Fix he's disappointed by the student government's decision but will continue to fight for free speech rights on his campus and others.
Goldberg is founder of "Students Advocating for Students," which seeks to educate students across the country about the importance of free speech and due process and empower them to advocate for their rights on campuses, according to its website. It was founded in April and the resolution at Tufts is one of its first free speech advancement campaigns.
The vote to reject the measure did not come as a surprise. After it was introduced in late September, Goldberg was viciously attacked and maligned on social media by peers who suggested he's only lobbying for free speech so he can be free to say racist and oppressive things.
MORE — TRENDING: Students protest the First Amendment
MORE: Student government VP 'tired of hearing' about First Amendment protections
Like The College Fix on Facebook / Follow us on Twitter
IMAGE: Sam Graham/Flickr
Like The College Fix on Facebook / Follow us on Twitter