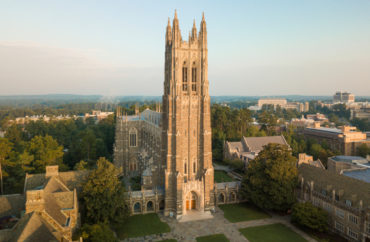 'Students were promised that space for more student oriented programming'
The Duke University Career Center has moved to a more prominent place on campus to better meet students' needs, but its journey there is possibly temporary and was definitely a bumpy road.
The center's new location was already allegedly promised to some multicultural student groups, causing anger and debate.
But after deliberation between students and administrators for almost a year, Duke settled on a "Plan 1.5" to be implemented this fall semester that seeks to strike a balance between student groups and educational needs on campus.
The turf wars centered on the massive Bryan Center, located in the heart of campus and host to most of the student support services, book store, theaters and more.
Many student multicultural groups were located in the bottom floor — dubbed the "basement" — and were upset when the Career Center was tapped for the first floor.
Duke University media affairs did not respond to requests from The College Fix seeking comment.
To appease the student groups, Plan 1.5 was devised, the Duke Chronicle reported.
The first floor of the Bryan Center will now host the Center for Sexuality and Gender Diversity, Women's Center, Student Involvement and Leadership, and the Center for Multicultural Affairs. Floor two will be dedicated to student multicultural and affinity groups, and the third floor will now house the Career Center.
According to university administrators, all attempts were made for a smooth transition that supports student interests and an "efficient" move after student concerns stalled plans last year.
After multiple listening sessions and consultation with student groups, the Duke staff incorporated student opinion into its architectural changes and followed student feedback to move affinity groups out of the basement of the Bryan Center.
Consulting by an outside architecture firm, Sasaki, confirmed the decision, which was announced to student stakeholders in a reportedly transparent process acknowledged by even the most vehement critics.
According to the Duke student newspaper, Duke has even offered each moved student group $2,000 to use on projects or programming during the fall semester.
"Plan 2.0," which will decide future layout changes in response to developing needs, is set to commence this year and run through 2023.
Some are not as excited.
"Students were promised that space for more student oriented programming," said junior Anthony Salgado, president of the Duke Latin American group Mi Gente, in an interview with The College Fix.
"Many students from marginalized communities use the [Center for Multicultural Affairs]," said Salgado. "I'm worried about where I'm going to host programs."
Other affinity groups expressed their concern last year in an open letter, but did not respond to requests for comment from The Fix this month on the newest plans.
MORE: Duke Divinity School holds worship service to 'the great queer one'
Like The College Fix on Facebook / Follow us on Twitter