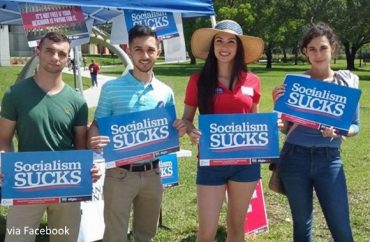 Pulling money will help take down 'islands of totalitarianism' says CEO Charlie Kirk
Turning Point USA recently announced an ambitious goal to convince conservative college donors to divest $1 billion from universities.
In a video announcement July 16, TPUSA's CEO Charlie Kirk rolled out the initiative, called DivestU.
The campaign aims to "strike universities where they are most vulnerable — their wallets." The video states that "anti-American indoctrination can only thrive" due to billion-dollar university endowments.
The free-market student group cited conservative donors who have gifted millions of dollars to universities as one source of the problem. It argues that the endowment money is then used to fund "the most radical elements of higher education," such as the Campus Antifascist Network.
The goal of DivestU is to get "over a thousand donors and supporters to divest a billion dollars nationwide," according to the video. Divesting $1 billion will help bring down these "islands of totalitarianism," Kirk said.
Andrew Kolvet, a spokesman for Turning Point USA, explained the goals of the program further to The College Fix in a phone interview.
"Turning Point wants people, whether alumni or otherwise, to stop donating to their alma mater or these institutions and invest in the country they love instead," he said.
He said Turning Point decided to launch DivestU in response to the growing echo chamber of liberal ideas on college campuses. The spokesman blamed the current social unrest on indoctrination, saying:
Currently on college campuses students are being indoctrinated with leftist ideas and parents are not seeing their children receiving the education or the values they want to instill in them. Turning Point wants them to fight back with what will impact the colleges the most, their wallets.

The cities on fire, all of the rioting, that did not happen in a vacuum. It started on university campuses where they play Russian Roulette with your values and in turn play Russian Roulette with American values.

Colleges are ground zero for radical actions that are happening on our streets. Universities are pumping out students with radical ideas who will eventually be in corporate boardrooms and the halls of Congress.
Turning Point also argues that divesting money will hold universities accountable.
"We have to help defend our country and her values by being willing to stop doing the 'polite' thing of donating to our alma maters and hold them accountable by divesting instead, the stakes are too high," Kolvet said.
"There are bad actors across the board," Kolvet said, but Turning Point does not have a list of good and bad schools. The video released by Turning Point names several, including Harvard, Yale, and Stanford. However, Kirk noted in the video that there are good schools like Liberty and Hillsdale.
So far Turning Point claims to have divested $13 million away from universities and redirected to other causes, including to Turning Point, according to an email sent out to supporters on July 20.
The email, a copy of which was obtained by The College Fix, urged people to "Join TPUSA's top supporters in DIVESTING from America's institutionalized indoctrination systems" claiming that "$13,000,000 have been already been DIVESTED."
The Turning Point spokesman told The College Fix this is all based on verifiable accounts from individuals with whom the group has a relationship.
"Wherever they put the money, whether some of it comes to us, whether it goes to schools like Liberty, whether it goes back to communities, we cannot continue to be complicit in institutions that seek to destroy our way of life," Kolvet said.
"The time to save America is now and it starts with reforming our colleges and universities through our dollars."
Originally, Turning Point and Prager U had planned to launch this project together.
However, a link to PragerU's divestment pledge has since been removed. An archived version of the page is still available. PragerU did not respond to multiple requests for comment.
MORE: Former senator says federal funding should be tied to support for free speech
IMAGE: TurningPointUSA/ Facebook
Like The College Fix on Facebook / Follow us on Twitter