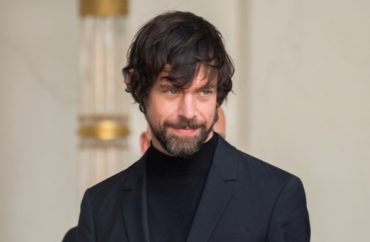 Boston University hides Ibram Kendi's most controversial statements
The religion of "antiracism" requires racial discrimination against whites, as its leading apostle Ibram Kendi has made clear.
Anti-white discrimination is getting an enormous boost courtesy of Twitter founder Jack Dorsey, who donated $10 million through his charitable foundation to Boston University's Center for Antiracist Research, launched by Kendi just six weeks ago, the private university said Thursday.
The gift from Dorsey (above) has "no strings attached," which shows his "unqualified support of Kendi's vision of putting academic researchers at the forefront of the movement to dismantle policies that underlie racial inequity and injustice," the university gushed.
It gives Kendi, director of the center and BU professor of history, "endless discretion about how the income from the gift will be used over time to advance the center," President Robert Brown said.
The first $1 million is for "immediate use," the university said: The center will hire staff and "fund its first research and policy teams on COVID-19 racial disparities." The other $9 million is for its endowment.
$10M to Dr. Ibram Kendi and the Center for Antiracist Research at BU. This research will inform and fuel much needed and overdue policy change. I appreciate you Dr. Kendi, and I'm grateful for your work! https://t.co/M2zvIQYeEO

— jack (@jack) August 20, 2020
MORE: Antiracism mandates are 'huge source of potential illegal racial discrimination'
While Kendi said he was "elated" by the gift from the technologist he judges by his skin color, the scholar said it was a pittance in the face of "the difference that we are striving for":
We are going to be engaged for decades in high-quality multidisciplinary research, critical policy and narrative change work, and lending our support to antiracist advocacy. That all necessitates a large staff, a community of well-funded researchers, and a lot of resources.
This summer BU lured Kendi away from American University, where he created the Anti-Racist Research and Policy Center and worked on his hit book How to Be an Antiracist. 
In addition to his history position, Kendi holds the Andrew W. Mellon Professor in the Humanities, an endowed chair only occupied by one previous person, the Holocaust survivor and author Elie Wiesel, BU said.
Woke Capitalism Under Managed Democracy rises https://t.co/LN9fxoHI2h

— Wesley Yang (@wesyang) August 20, 2020
The university's press release omits Kendi's more controversial statements, including those that lay bare the racism at the heart of his ideology. One of them:
The only remedy to racist discrimination is antiracist discrimination. The only remedy to past discrimination is present discrimination. The only remedy to present discrimination is future discrimination. [Kendi considers "discrimination" the cause of any unequal result between racial groups, which was also left out of the release.]
In fact, the 2,500-word press release only mentions "discrimination" once and points it away from Kendi:
In his September cover story in The Atlantic, "The End of Denial," Kendi points to a recent Monmouth University poll that found that roughly three quarters of Americans now view ethnic and racial discrimination as a big problem.
The center had previously received a three-year $1.5 million donation from Vertex Pharmaceuticals' charitable foundation, as well as 1,500 donations "from less than $50," the university said.
MORE: Kendi defines 'antiracism' as equal outcomes among racial groups
IMAGE: Frederic Legrand – COMEO/Shutterstock
Like The College Fix on Facebook / Follow us on Twitter