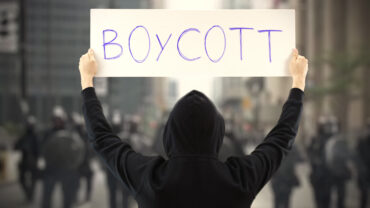 'Boycotting student loan payments can lead to severe financial consequences,' expert said
Over two-thirds of those with student loans say they would boycott paying them this fall, according to a recent report.
"Half believe a boycott could lead to total debt forgiveness," according to a survey of 1,000 students published by Intelligent, an organization that examines data related to colleges and universities.
However, "boycotting student loan payments can lead to severe financial consequences for borrowers including damaged credit scores, garnished wages, seized tax refunds, and ballooning loan balances from accumulating interest," according to Rikin Shah, former head of business operations at the student loan refinancing company Earnest, quoted in the report.
Intelligent's survey showed students fear paying back their student loans after the Supreme Court struck down President Biden's student loan debt forgiveness in Biden v. Nebraska and Department of Education v. Brown, as The College Fix reported at the time.
When COVID-19 hit, all student loan payments were halted. Now, after nearly a three-year hiatus, loan payments have already resumed and are due this October, according to the US government's Federal Student Aid website.
Over seventy percent of students say they will have to "take on extra work in preparation for payments resuming," while half fear they will be unable to pay their student loan debts, according to Intelligent's survey.
The Fix emailed the organization Debt Collective, a "debtors union fighting to cancel debts" that reports success in boycotts of student loan payments leading to some "debt abolition," according to its website.
The Fix asked Debt Collective what the success rate for a national boycott could be and whether it would leave students in more debt if it failed.
Debt Collective did not respond to emails sent in the past three weeks.
The Fix also asked some college students if they thought a boycott would be successful and whether they would join one.
Andrew Durkee, a senior at Franciscan University of Steubenville, a Catholic liberal arts college in Ohio, said logic tells him a boycott wouldn't work. Still, he would be "terrified" if it did.
"One of the things I like the least in all this is that these people chose to go to college knowing exactly how much they would have to pay and how much debt they would have," Durkee responded.
Rather than hold these student loan borrowers accountable, "the government, notably the left, seems very willing to cater to these people who don't want to assume responsibility for their actions in return for political power," Durkee told The Fix via text.
Niklas Koehler, another senior at Franciscan University, told The Fix in an in-person interview that while most people think that the people penalized by student loan forgiveness are the taxpayers who will inevitably be paying for it, "the people who lose the most out of not paying those student loans is the people who are supposed to pay the student loans."
"Paying student loans builds a sense of character, builds a sense of accomplishment," Koehler, said. "Yes, it takes grit and … may cause [your career] to take a little bit longer to develop."
However, to Koehler, the character that a student builds from paying off student loans would be more valuable in his or her future career and family life than the consequences of shirking debt.
MORE: Democrat-sponsored legislation would cancel student loan interest
IMAGE: max.ku/Shutterstock
Like The College Fix on Facebook / Follow us on Twitter