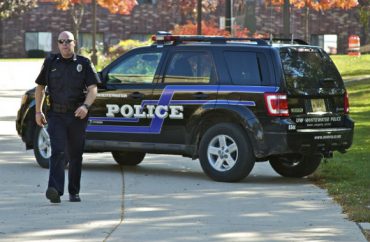 UPDATED
Two University of Arizona students face criminal charges for their part in a confrontation with a pair of US Border Patrol employees who were holding a discussion with a campus student organization.
Led by Mexican-American studies major "Denisse" who filmed herself yelling "Murder Patrol!" at the agents while following them, a group of students soon after mounted an impromptu protest of the Border Patrol.
Denisse also whined about not being "safe" around the agents, compared the Border Patrol to the KKK, and when a student with the group who had invited the BP to speak said that she would call the police, Denisse yelled "White woman is calling the police!"
According to KOLD-13, UA President Robert Robbins wrote in a campus-wide letter that two students "will face a misdemeanor charge of interference with the peaceful conduct of an educational institution." Meanwhile, UA Police are still working to determine if the students will face other charges, and the Office of the Dean of Students is "reviewing potential violations of the student code of conduct." KOLD does not identify the students.
Robbins also said "the actions of its employees" are being looked into, but no specifics were offered.
From Robbins' letter:
The incident between the protesting students and the Criminal Justice club members was a dramatic departure from our expectations of respectful behavior and support for free speech on this campus.

University police determined today they will be charging two of the students with interference with the peaceful conduct of an educational institution, a misdemeanor.

The UA Police Department will continue to investigate the incident for additional criminal violations, and the Office of the Dean of Students is reviewing potential violations of the student code of conduct. There also will be a probe into actions involving UA employees.

The University has policies and protocols for behavior and expression, and we are following those. However, I have assigned university staff to examine our processes to ensure we are working effectively to help prevent similar incidents in the future while maintaining the 1st Amendment right to free speech and protest.

At the core of these inquiries is the University of Arizona's commitment to free speech. The student club and the CBP officers invited by the students should have been able to hold their meeting without disruption. Student protest is protected by our support for free speech, but disruption is not.

As a community of scholars, we need to be more thoughtful and deliberative in how we approach these issues and work together to sustain vigorous conversations to find better solutions.
Last Wednesday, UA's Immigrant Student Resource Center played host to a panel discussion titled "Forgotten in the Desert," which dealt with matters pertaining to "immigrants and ethnic minority communities." Mexican-American studies lecturer Raquel Rubio-Goldsmith talked about the history of Mexican immigration … "including migrant deaths caused by Border Patrol officers."
UPDATE: The Foundation for Individual Rights in Education (FIRE) has issued a statement regarding the incident noting that, based on the current video evidence, the situation is "a close call between competing First Amendment interests":
First Amendment jurisprudence recognizes that freedom of expression requires "breathing room"; filing criminal charges against students for campus speech that may be protected by the First Amendment will chill protected student speech. Students will rationally decide to self-censor rather than risk the possibility of criminal charges.

There is an important difference between conduct intended and designed to prevent others from expressive activity and protest which may incidentally impact or frustrate others' expression. This may sometimes be a difficult line to draw, but close questions regarding student First Amendment rights are rarely best answered through criminal charges.
MORE: Presence of Border Patrol at U. Arizona job fair leads to student protest
MORE: VIDEO: Protesting students confront Border Patrol speakers at U. Arizona
IMAGE: UWW ResNET / Flickr.com
Like The College Fix on Facebook / Follow us on Twitter