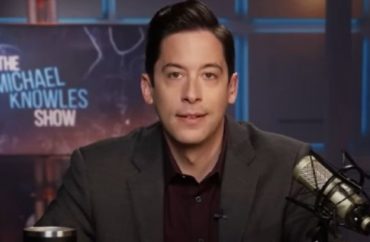 'We are exploring all available options to retain our status on an equal basis with other clubs on campus,' student group leader says
Legislation recently approved by the University at Buffalo Student Association would cut funding and resources to the school's Young Americans for Freedom chapter because it disallows campus clubs from being associated with off-campus outside organizations.
The Young Americans for Freedom chapter is part of the nationwide Young America's Foundation, a conservative nonprofit that teaches high school and college students about Constitutional principles.
The specific resolution, introduced by Student Government member Sammi Pang, goes into effect on May 31. It states no Student Association club "may be a chapter of or otherwise part of any outside organization."
The legislation follows a successful speech hosted by U. Buffalo YAF that featured conservative commentator Michael Knowles in March that reportedly drew over 600 students despite major protests. Knowles' talk had criticized feminism, drawing attempts to shut it down with chants by several people escorted out by security.
Last year, a mob of students shut down a YAF event at the University at Buffalo featuring former Congressman Allen West.
The new policy does allow exceptions to "clubs in the Academic, Engineering, or Sports Councils, and clubs whose sole purpose is to engage in inter-collegiate competition."
According to the resolution, student organizations had until May 17 to comply with the new legislation. However, the deadline was recently extended, according to a leader in the campus YAF group. Failure to comply will result in "automatic derecognition of that club."
The rules would have a direct impact on YAF's ability to host speakers and events as their funding would be cut.
"Without access to resources, funding, and facilities, the soon-to-be unrecognized YAF chapter will no longer be able to host impactful speaker events, meetings, or activism projects," the organization wrote on its news blog the New Guard.
UB YAF President Connor Ogrydziak said the resolution is a violation of his group's freedom of expression.
"The freedom to associate around shared beliefs is fundamental to the First Amendment," Ogrydziak told The College Fix via email on May 12. "All student organizations should be able to choose who they work with."
"This ban on clubs like YAF that are affiliated with national organizations is unconstitutional and should be opposed by all students whether they agree with the goals of our club or not," he said. "We are exploring all available options to retain our status on an equal basis with other clubs on campus."
Pang has not responded to a College Fix request for comment sent in the past three weeks to explain why there are some exemptions in the legislation and for the senator's stance on conservative free speech on campus. The student association did not respond to a similar request for comment.
The university did not respond to an emailed request for comment sent in the past three weeks.
Ogrydziak said there was "no reason" given for the extension deadline.
According to Young America's Foundation, it appears to be a deliberate attempt to stifle freedom of speech and expression that might contradict those of the UB Student Association.
"Although a small handful of other student organizations will also be impacted by the resolution, Pang strategically included multiple exemptions in her resolution that limit the collateral damage, allowing dozens of nationally-affiliated groups to retain official recognition and funding," YAF wrote on its news blog the New Guard.
In a similar move, Northwestern University's Associated Student Government voted to freeze funding for the College Republicans chapter using "emergency legislation" after criticism of posters the group posted to advertise an event with author and critical race theory critic James Lindsay.
MORE: Wisconsin med school cancels anti-DEI event – could 'jeopardize safety'
IMAGE: Michael Knowles/YouTube
Like The College Fix on Facebook / Follow us on Twitter