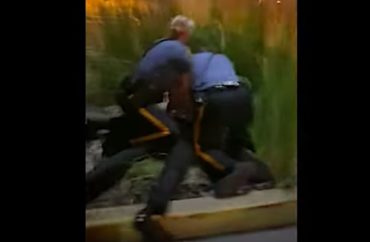 For years, several large Delaware school districts have been holding their high school graduation ceremonies at University of Delaware's basketball arena, the Bob Carpenter Center.
Christina School District, the state's largest in terms of population, held its high schools' graduations last month.
But after Newark HS's ceremony, U. Delaware campus police had to get involved.
According to the Newark Post, "high-achieving student" Mohammed Sanogo ended up being thrown to the ground and arrested by UD police in the center's parking lot following graduation (see video).
Friends and supporters of Sanogo, including the local Muslim community, accused UD of excessive force and racial bias.
At a Christina School Board meeting late last month, one of Sanogo's friends claimed the police "were provoking us that day" and "were already mad."
The friend said police had approached them while they were praying in the parking lot and told them to leave.
He also said that after Sanogo got into his car, "his tires made a noise, and they sounded like they were drifting but they were not drifting. The police came over, they started running at us. They had tasers drawn at us, flashlights in our face, banging on the windows."
The University responded that its officers "saw three cars being driven recklessly through the parking lot, with passengers hanging out of the windows."
MORE: 'Noose' delusion rocks on at the University of Delaware
U. Delaware "rejects any and all allegations that the UD Police Department officers acted with racial or religious bias," the university said in a statement. It added Sanogo "was apprehended for behavior posing risk and harm to himself and others due to reckless operation of a vehicle."
"Two on-duty UDPD officers engaged with the drivers, given the careless and dangerous activity occurring on campus property, and asked them to fasten their seatbelts and leave the property," UD stated.

Two of the drivers complied, but Sanogo did not. Instead, he accelerated quickly, spinning his car's tires and drifting the vehicle around a median where an officer was standing, UD alleged.

"These actions posed a safety threat to the officers and others who were in close proximity to the vehicle," the statement read. "As UDPD officers approached the vehicle on foot to address the situation, the driver revved the engine and put the vehicle in reverse, in an attempt to maneuver around the vehicle in front of him and exit through the entrance lane.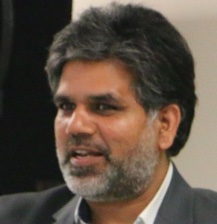 Christina board member Naveed Baqir (pictured) said that "claims of non-racial or religious non-bias should be followed up by empathetic actions," and the Newark NAACP said it was "deeply concerned and disturbed" by what happened.
This past week, the Christina board voted to stop holding its graduation ceremonies at U. Delaware, Delaware Online reports. It also is reconsidering "all of its connections" to the university, totaling around $250,000.
Baqir said further meetings with UD officials have proved fruitless. "We will continue to have progressive sanctions until this is addressed […] and [there's] an acknowledgment that they have done something egregious," he said.
Baqir also claimed UD has "a history of racist incidents on campus," but did not elaborate.
h/t to M.B.S.
MORE: NAACP upset with University of Delaware for 'lack of diversity'
IMAGES: Delaware LIVE News/YouTube screencap; Naveed Baqir/Facebook
Like The College Fix on Facebook / Follow us on Twitter