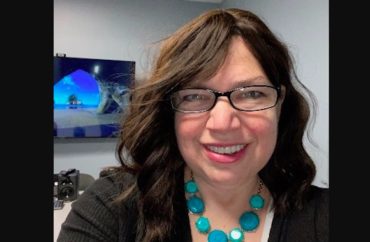 A journalism professor at the University of Delaware this past week discovered a swastika and "threatening message" on a poster  advertising a coming drag show that she organized.
The poster, on Professor Dawn Fallik's office door, promoted local drag performer "Martha Graham Cracker." It was graffitied with "We Are Everywhere," according to a report from Delaware Online.
Fallik (pictured), who's Jewish, said she and investigators believe she was the target of the hate graffiti, although there yet is no suspect nor official motive.
Fallik noted there are other Jewish professors in her hall "who didn't receive any hateful messages."
Fallik said she had just completed a unit on "how the media covers race and marginalized communities" in which she had mentioned her religious faith, but she has "no reason to suspect any of her students."
She said it could have been somebody "listening in" as her classes have been virtual this semester.
The student newspaper The Review reports the hall in which Fallik's office resides, Memorial (one of the oldest on campus), doesn't have surveillance cameras on the inside, only outside.
In response to the incident, faculty in the English department put up fliers on their office doors which read in part "All faiths, sexualities, genders, modes of self-expression, races, abilities are welcome here."
MORE: Columbia, NYPD silent on investigation into swastika reportedly found on campus two months ago
In a statement, the department said: "We assert that the English Department is a place where all are free to learn in a safe and welcoming environment. We affirm our commitment to people of all genders, sexualities, and faiths and stand with queer, trans, and Jewish members of our community."
UD President Dennis Assanis also issued a statement saying "On behalf of the entire University, we unequivocally denounce this incident, which is in direct opposition to our institutional values supporting diversity, equity and inclusion. At UD, people of all faiths, ethnicities, race, genders and sexualities are welcome, and every member of our community must be free to teach, work, learn and live on our campus while having all aspects of their identity respected."
According to The Review, at least one student was upset the university didn't respond to the incident sooner:
Bennett Gentile, a junior double major in philosophy and energy and environmental policy, was disappointed that university administration had not released a statement to students as of Tuesday afternoon.

"As a member of the LGBTQ community, it is incredibly disheartening to see the university not immediately have a statement saying that it is unacceptable to have targeted intimidation," Gentile said. "Obviously they can't control specific students doing hateful actions, but what they can control is a response to it."
A swastika also was discovered in a UD dorm back in November, while in 2020 the campus Chabad Center for Jewish Life was the victim of an arson attack.
MORE: Hoax? College won't provide race of employee fired for swastikas, racial threats
IMAGE: Dawn Fallik / Twitter screencap
Like The College Fix on Facebook / Follow us on Twitter