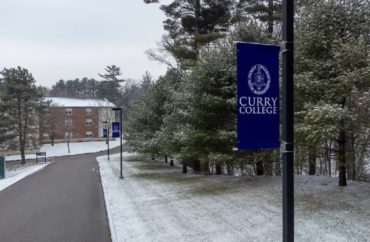 University ignores direct questions about race
A private college in Massachusetts fired an employee accused of making dozens of racist threats but will not provide details on his or her race.
The investigation stems from a series of swastikas found on Curry College's campus in January, along with graffiti directed at black individuals. Previous attempts by The College Fix to obtain photos and evidence of the threats from the university and law enforcement were not successful.
The investigation involved the Milton police and the Federal Bureau of Investigation.
Spokesperson Liz Matson shared a media statement similar to the one below with The Fix but would not answer direct questions twice about the race of the suspect and why it could not be disclosed.
The Fix had called and emailed spokesperson John Eagan for comment on the questions and also reached out to Matson. She deferred to the police when asked about criminal charges.
President Ken Quigley stated in an email to the campus community that university officials "recognize and regret the impact these bias acts have had on our students, families, faculty, and staff throughout the spring semester and hope this will allow us to continue moving forward."
He stated in his message:
The College carefully reviewed evidence gathered by law enforcement and interviewed the person of interest identified by law enforcement investigators and other individuals who were potentially connected to specific incidents. The outcome of our independent investigation has resulted in an employee being terminated and removed from our community. The College's Statement on Non-Discrimination requires confidentiality related to investigations. Therefore, this is the only information we can provide at this time.
The Fix left a voicemail Friday morning for Curry College's Department of Public Safety but did not receive a response to questions about the race of the employee, why the non-discrimination policy forbids disclosing that information and if any criminal charges would be filed.
The Milton Police Department put a phone call from The Fix through to Deputy Chief James O'Neil. He did not return a voicemail left on Friday morning asking for the race of the suspect and if criminal charges would be filed.
The published "Notice of Non-Discrimination" states the university won't discriminate on the basis of race, sex, religion, marital status and other characteristics.
"Persons who engage in unlawful conduct prohibited under this Notice will be subject to disciplinary actions and sanctions," the policy also states. It describes the possible punishments but nothing in the policy explains why an employee investigated cannot be named nor basic demographic information provided.
MORE: Hoax cited as proof University of Utah 'failed Black community'
IMAGE: Curry College/Facebook
Like The College Fix on Facebook / Follow us on Twitter