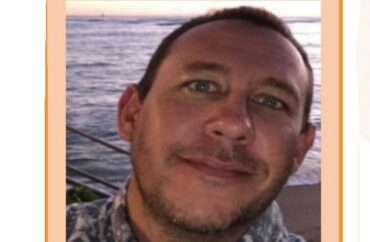 Whites value a dolphin over a hungry indigenous child because of its 'charisma'
An indigenous lecturer at the University of Hawaii at Mānoa recently put out a paper which concludes the so-called "White Gaze" of white environmentalists who work to save various species of sea life is responsible for the homelessness and hunger of Pacific Islander peoples.
In "The Science of White Gaze in Our Sea of Islands: European Overreach the Unceasing Incursion of Uncharismatic Megafauna," philosophy PhD student Bruce Ka'imi Watson (pictured) refers to the "Pacific" (quotes in the original) Ocean as "Our Sea," which had to endure the "incursion of dysplaced [sic] Europeans."
These white folks, Watson says, use(d) their White Gaze to either save "megafauna and forms-of-life" or destroy them, depending on the perceived "presence or absence of discrete characteristics."
"Nature-loving" organizations like Greenpeace work to save species such as whales and dolphins because White Gaze has ascertained that they have "charisma."
Europeans place greater value on a dolphin's "charisma" than, say, a "hungry Japanese child" because it makes their Whiteness "feel comfortable and settled," Watson argues.
MORE: Research seeks to eradicate 'whiteness' from the realm of physics education
Watson displays an odd fascination with actress Hayden Panettiere in the paper, and while (rightly) noting that it was Europeans' high demand for products like whale oil which largely put cetaceans in danger in the first place, he connects this and subsequent preservation efforts to, among other things, Christianity:
[…] it is the repeated violence of dysplaced values, traditions, and habits of dysplaced Europeans which truly cause destruction and then later resurrection. The dysplaced European enacts and reenacts the life of their Christ through this commercial cycle. …

Climate change and annihilation of the species from the planet can be traced directly to the overreach of dysplaced Europeans, instead of asking us to recycle, how about focus on the core of the problem, White Gaze, the Academy, and White Supremacy. White Gaze allows, and market rationality encourages, White Gaze to treat Our Islands as a vacation colony. The creation of paradise is facilitated and encouraged by the rationality of resource distribution a redistribution from Ours sold to be theirs and thereby ours.
Watson's research interests include indigenous philosophy, agnotology (the study of ignorance) and Haole (non-native Hawaiian, often insulting in meaning) ignorance.
According to Watson's doctoral dissertation in educational foundations, the story of the Hawaiian people once was stored in natives' "neurons and naʻau" (the latter meaning "guts/hearts/mind"), eventually being written down to save it from the "reduced perceived value" it had following the "European incursion."
MORE: University, researcher silent on bizarre 'whiteness-in-us' campus talk
IMAGE: UH Manoa Political Science Dept./Twitter
Like The College Fix on Facebook / Follow us on Twitter