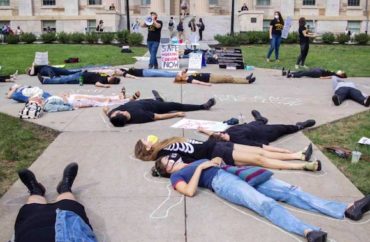 Approximately 50 University of Iowa students held a "die-in" earlier this month to protest what they believe are "lax" COVID-19 on campus. They also issued several demands.
The demonstration was arranged by the Campaign to Organize Graduate Students, a graduate student worker union. Among other things, the group wants vaccine and mask mandates, Little Village reports.
The Iowa Board of Regents, which makes policy for Iowa's public universities, has decided against mask and vaccine requirements. The University of Iowa is the only school in the Big Ten Conference that doesn't have a mask mandate.
Nevertheless, UI said in a statement that it "strongly encourages the use of face masks on campus, especially in all classroom settings and during in-person office hours."
Sociocultural Anthropology PhD student Caleb Klipowicz led those in attendance in several chants, culminating with a threat to "shut it down" if a mask mandate wasn't implemented. Theater Arts grad student Rob Ascher complained that "not a single student" was wearing a mask in his class. "That ain't right," he said.
American Studies lecturer Glenn Houlihan said he was "appalled by the lack of care and leadership" by UI officials which have put workers "in almost a perpetual state of stress": "[It's] immensely distressing. It makes me feel upset teaching. I don't feel safe in my workplace."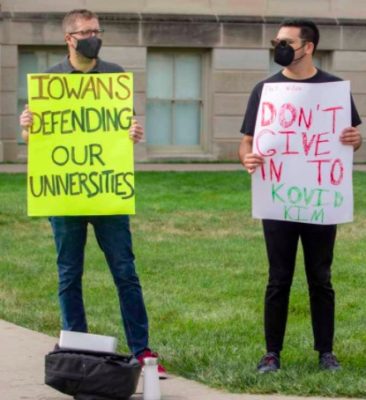 Among the protesters' demands:
— Require masks inside campus buildings. The activists claim masks are "one of the simplest and most effective ways to slow the spread of outbreaks."
— Require vaccinations of students, faculty, and staff. Comes with an "and/or" of mandated weekly COVID testing of the unvaccinated and those with exemptions.
— "Pause all non-essential in-person events, and create hybrid options for all essential events." It's unclear if UI football games — which Ascher called "super spreader[s] and a half" — are considered "non-essential."
MORE: UMich TAs hold 'die-in' to protest university reopening amid COVID
IMAGES: Twitter, Little Village screencaps
Like The College Fix on Facebook / Follow us on Twitter