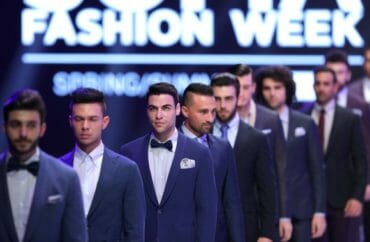 A beauty pageant that took place Sunday at the University of Iowa included a twist: the contestants were men.
The Daily Iowan reports that six male students, donning their best attire and strutting their stuff, participated in the pageant that was part of an event focused on increasing awareness for breast cancer. Put on by Alpha Kappa Delta Phi, a sorority at the University of Iowa, the inaugural "Mr. Pink Pageant" included the beauty contest as well as discussions and informational presentations about breast cancer.
From the Daily Iowan article:
Described by organizers as a "charity pageant designed to raise awareness about breast cancer," the pageant included educational segments on breast cancer in addition to the traditional talent, outfit, and Q&A portions.

Ingrid Lizarraga, a surgical oncologist at University of Iowa Hospitals & Clinics, was invited to speak on the issue of breast-cancer detection and prevention. She emphasized the importance of raising awareness of the disease among the younger campus community.
Alpha Kappa Delta Phi's President Jane Nguyen told the campus newspaper that the pageant sought to show that breast cancer isn't just a women's issue.
"The reason the event is called the Mr. Pink pageant is to raise awareness of the fact that males are also affected by breast cancer, even if they only make up a small proportion [of those affected]," Nguyen said.
Another member of the sorority, Avonleigha Lee, said the all-male pageant provided a chance to bring men into the conversation about breast cancer.
"The idea was that doing an all-male pageant would be a great way to get the issue out there," Lee said.
And while the event covered a serious topic, the Daily Iowan reports the beauty pageant was still a joyous occasion:
The event quickly took on a more lighthearted tone as pageant contestants were introduced on the stage. The outfit portion, loosely organized around the theme of "pink," saw contestants dressed in a range of styles from modest T-shirts paired with baseball caps to full pink formal-wear suits.

Pageant winner Jacob Heid took to the stage in a pastel crop top and black knee-high boots.

In the talent portion, most contestants opted for elaborate dance routines including backup dancers and ample lip-syncing. Meanwhile, the Q&A portion ranged from earnest questions on why it was important to support breast-cancer awareness to more jovial inquiries into where contestants bought their outfits.
Read the full Daily Iowan article.
MORE: GWU sorority might be punished because of private photo with a banana peel
IMAGE: Belish/Shutterstock
Like The College Fix on Facebook / Follow us on Twitter