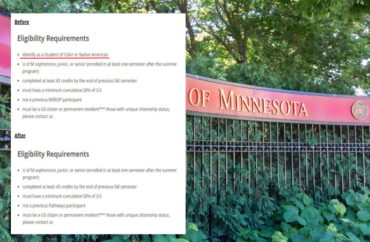 The University of Minnesota recently removed language excluding white students from applying for a summer research program after a discrimination complaint was filed with the U.S. Department of Education's Office for Civil Rights.
The university scrubbed the no-whites-allowed wording from its website amid national press coverage regarding the program and the May 19 civil rights complaint.
But the application still asks for demographic information.
"It's unclear if that means the discrimination will continue under cover, or someone just failed to update that section," Cornell Law School Professor William Jacobson, whose foundation filed the civil rights complaint, wrote on his Legal Insurrection blog.
"Clearly, U. Minnesota has retreated from its open promotion of a racist program. We await formal confirmation that U. Minnesota has changed not only the website," Jacobson wrote.
The program, prior to the complaint and media coverage, was titled the Multicultural Summer Research Opportunities program. Now the term "multicultural" has been scrubbed from the program's title.
The eligibility requirements have also been edited. The university removed the bullet point that applicants must "identify as a student of color or Native American."
"This change that doesn't end the problem, because there are students who have been denied an educational opportunity by the university on the basis of skin color," Jacobson wrote. "Will U. Minnesota reopen the application process? Will it add opportunities for those students who lost out? There is more to be done beyond dropping the racist advertising and program requirements."
The University of Minnesota also has an established history of scrubbing its website of its segregated events.
As The College Fix reported earlier this week, the university recently held an event just for "BIPOC students" considering grad school, prompting a complaint to be filed with the Department of Education's Office for Civil Rights alleging racial discrimination. As the feds review the complaint's merits, the university scrubbed the event page and wiped information about the gathering from its website.
The University of Minnesota has had 26 federal civil rights complaints for Title VI and Title IX violations filed against it over the last four years.
No other college or university in the nation has come close to the University of Minnesota in "demonstrating such an egregious and embarrassing record of failing to actively enforce Title VI and Title IX," according to scholar Mark Perry, who filed the complaints.
MORE: U. Minnesota scrubs info on racially segregated event after federal complaint
IMAGE: Legal Insurrection and Shutterstock
Like The College Fix on Facebook / Follow us on Twitter