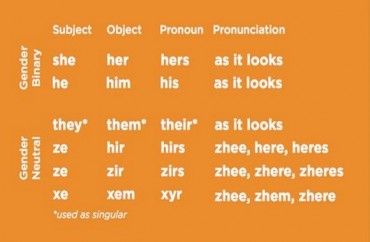 The University of Minnesota is considering a policy to discipline students or professors who refuse to call someone by their preferred gender pronoun, with penalties that could include being fired or expelled.
The draft policy under review may change, but as of now it states that "university members and units are expected to use the names, gender identities and pronouns specified to them by university members, except as legally required."
When someone does not go along with a person whose biological sex does not match their preferred gender — such as refusing to call a biological man a woman — it is called "misgendering" and is considered harassment by secular progressives. Indeed, some have even suggested refusing to recognize someone's preferred gender amounts to "violence."
"I've come to understand after all these years of experience that calling a transgender woman a man is an act of violence," transgender actress Laverne Cox once told an audience of college students, prompting them to applause wildly.
The proposed policy at the University of Minnesota states that misgendering someone may result in "disciplinary action up to and including termination from employment and academic sanctions up to and including academic expulsion."
MORE: When lies are truth on campus
Gabrielle Mead, assistant director of the public university's Equal Opportunity and Affirmative Action office, which would oversee the new policy, told the Star-Tribune that its "intent is to be able to create more access and an inclusive environment for all of our community members regardless of their gender identity."
The newspaper reports the proposed policy is "one of the most ambitious of its kind in the country," but it will likely undergo revisions before it's approved.
Several campus organizations collaborated to write the policy, including the Gender and Sexuality Center for Queer and Trans Life and the Equal Opportunity and Affirmative Action office, reports the Minnesota Daily campus newspaper.
"The draft was written to address faculty concerns and improve the campus environment for gender nonconforming students. The administrative policy is currently receiving feedback from student groups and University governments – and hopes to present it to the University Senate next fall," the Daily reports.
Meanwhile, alarm bells sound.
Joseph Konstan, a computer science professor and chair of the Faculty Consultative Committee, told the Star-Tribune the proposed policy "set off the free speech alarms immediately."
"I don't think it's a controversial idea that people should be addressed as they prefer to be addressed," Konstan said. "Where it becomes controversial is where you move from being about good behavior … into a disciplinary matter."
The proposed policy rings similar to the controversy brewing in Canada, which added gender identity and gender expression to its discrimination laws. Some have argued that will lead to people being thrown in jail for misgendering, or at the very least it's the start of a slippery slope and an affront to free speech rights, among other concerns.
Objections over the Canadian policy were brought to light by the University of Toronto's Jordan Peterson, who shot to fame for his refusal to use gender-neutral pronouns.
More recently, Wilfrid Laurier University graduate student Lindsay Shepherd was investigated for overseeing a gender-neutral pronoun debate in class. She has since sued the Canadian school over the probe.
As for the University of Minnesota proposal, it is another politically correct encroachment on higher education, some argue.
"Gender nazis love to get people fired," notes John Hinderaker of Powerlineblog. "[I]t typifies the craziness that is going on at academic institutions these days. This is one of several reasons why higher education has fallen into disrepute."
MORE: Canadian professor under investigation for promoting free speech in class
Like The College Fix on Facebook / Follow us on Twitter