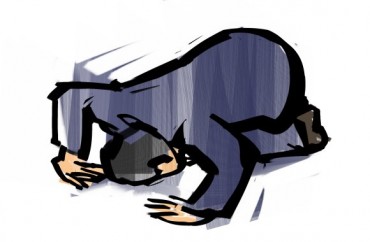 Back on September 30 the College Republicans at the University of Minnesota had the unmitigated gall to take advantage of a "Paint the Bridge" event to, well, paint the message "Build the Wall" on the Washington Avenue Bridge.
As could be predicted, this proved anathema to the snowflake set, and expressions of hurt feelings followed, with the CR's message being painted over — with one "counter" message saying "Stop White Supremacy."
A school official had noted that the university "bias incident team" was notified.
Though school president Eric Kaler continues to defend the CR's right to express such political speech against numerous students' stunted understanding of the First Amendment, he seems to be feeling the pressure of continuing protests, including one of around 100 students on October 6.
"The "Paint the Bridge" incident has generated much discussion and debate … I know for many of you, particularly Latinx students, faculty and staff, the words on the panel hurt," Kaler said in a schoolwide email about the event. "It is especially important for our University to respect political speech. It is at the core of our academic tradition, our political process, and the laws of the land."

MORE: College Repubs scrawl 'Build the Wall' at painting event, are reported to 'bias incident team'

Still, certain speech at the University has inspired outpourings of emotions from students, faculty and community members that say free speech should be limited in instances where offensive speech is directed at groups of people or individuals. …

"I do think that my message over the weekend about 'Build the Wall' should have been more inclusive about recognizing the pain it caused," Kaler said, adding that he regrets weak wording in a campus-wide email concerning the College Republicans' panel and subsequent vandalization.
Naturally, this was not sufficient to assuage the (perpetually) aggrieved.
"People sat up here today, sharing their real true feelings, they were crying," graduate student Alaina DeSalvo said. "Kaler just said it was free speech under the law in a completely cold and composed way, and none of this mattered to him. That's so disappointing to me."
Maya Mohamed added, "I am one of many black students on this campus, one of many Muslim students on this campus and I am one of many women on this campus. And it is not fair that I do not feel safe because of this statement."
Unsurprisingly, protesters didn't seem to grasp the difference between a static written message and … actively disrupting a planned meeting:
"[Protesters called Kaler] a hypocrite for defending College Republicans' freedom of speech while failing to recognize, they said, the same free speech rights of six students who were arrested for protesting tuition hikes at a Board of Regents meeting in June."
MORE: Complaint to 'Hate Response Team': Harry Potter mural represents 'white, cis, man power'
MORE: College Republicans 'trigger warning' wall message quickly painted over by critics
Like The College Fix on Facebook / Follow us on Twitter
IMAGE: Shutterstock
Like The College Fix on Facebook / Follow us on Twitter