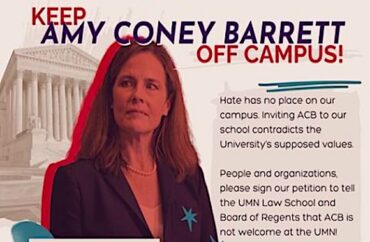 The University of Minnesota Students for a Democratic Society and Young Democratic Socialists of America plan to protest an appearance by U.S. Supreme Court Justice Amy Coney Barrett next month.
Barrett will be giving the Law School's annual Robert A. Stein Lecture on October 16, according to The Minnesota Daily. 
A SCOTUS justice has given the lecture every year for the last decade.
The SDS and YDSA are angry at Barrett's majority opinions in Dobbs v. Jackson (which overturned Roe v. Wade) and the two cases which ended affirmative action in college admissions.
"We have to use our voice and do what we do best to make sure that not only the University, but Barrett knows that that kind of forces are not welcome here," the SDS's Gillian Rath said.
Rath also claimed UMN officials "don't care about our thoughts and feelings and they really don't care about our rights."
Rath, who's quite involved in the abortion rights movement, participated in a protest earlier this year which demanded the establishment of more abortion clinics across the (progressive) state. She also allegedly was "harassed" by the FBI for her actions against "predatory" crisis pregnancy centers.
MORE: Rhodes College alumni call for Justice Barrett's removal from school's hall of fame
The UMN SDS Instagram page features numerous anti-Barrett flyers (pictured), including images of the justice with "Xs" over her eyes, which can signify "death."
One flyer reads "Keep Amy Coney Barrett off campus! Hate has no place on our campus. Inviting ACB to our school contradicts the University's supposed values."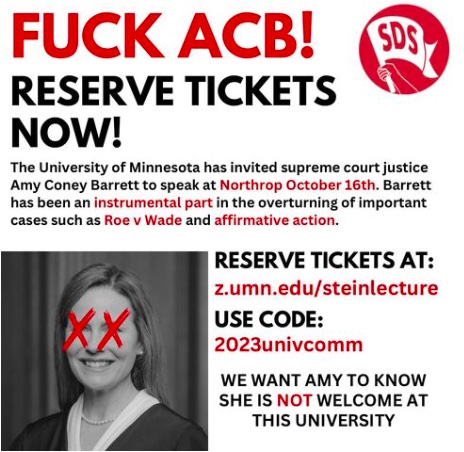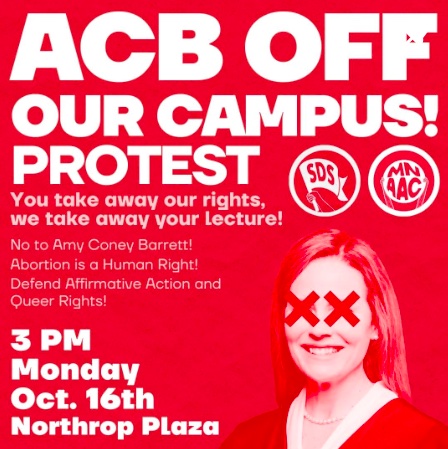 The YDSA's Sahra Jilaow claimed Barrett's appearance "goes against the University's commitment to fostering diversity and inclusion."
"[Barrett] has harmed every single marginalized community in some way with her policies, and her continuing that rhetoric on campus creates more of a divide," Jilaow said. "It's important for college students to realize who is coming onto their campus and what they have been representing."
Interim Dean of the Law School, William McGeveran, heard student concerns through a meeting held on Sept. 25 with the Law Council, the law school's student government. He said some students were excited about the opportunity to hear a different political perspective while others were unhappy with the decision.

"My role and the law school's role is to support our faculty and students when they want to exercise speech rights," McGeveran said. "Whether that's bringing speakers, responding to speakers or engaging in non-disruptive protests, we want to see lots of different perspectives."

One student who hopes the SDS protest does not interfere with Barrett's appearance is Olivia Oldenburg, a third-year aerospace engineering student. She said she is a fan of Barrett and plans to attend the lecture, wanting to enjoy the event without any interruptions.

"You can't agree with everybody, and if you're going to have a political discussion with somebody, you're going to have to respect their views and they're going to have to respect mine," Oldenburg said.
McGeveran said UMN police officers "have plans in place for any potential disruptions and particularly any disruptions that would cause physical harm."
MORE: NAACP denounces Amy Coney Barrett for ruling that helped black male students
IMAGES: UMN Students for a Democratic Society/Instagram
Like The College Fix on Facebook / Follow us on Twitter