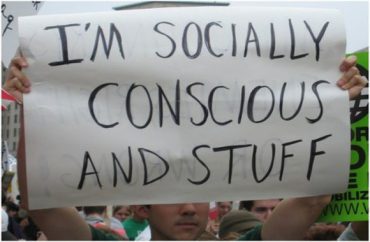 "I think it's important to remind people at a football game, at a concert."
The University of Minnesota-Twin Cities campus plans to formally offer a statement noting that it sits upon Native American land, and supporters hope it's more than "symbolic."
Unfortunately, there doesn't appear to be much beyond the symbolism.
As reported by the Minnesota Daily, senior director of UMN American Indian Tribal Nations Relations Tadd Johnson said he hopes the acknowledgment "goes along with a family of policies that are related to American Indians in the University system." This would include things such as "establishment of a Native nations advisory board" whose members would "talk with people in the University community on a regular basis."
UMN President Joan Gabel was similarly shallow:
"It is important to acknowledge the people on whose land we live, learn and work as we seek to improve and strengthen our relations with our tribal nations," Gabel said in a statement to the Daily. "I am dedicated to building meaningful relationships, which require continued listening, learning and action."
This ambiguity also is found in a university online statement: "Land acknowledgments do not exist in a past tense or historical context: colonialism is a current ongoing process, and we need to build the mindfulness of our present participation."
How does one "build mindfulness"?
[A] written land acknowledgement is a first step, but [Johnson] said he hopes it goes along with policies related to Native Americans in the University system. …

"I think it's important to remind people at a football game, at a concert. There is some history to this land you are sitting at. Most of the history of this continent took place before 1492," he said. …

Some professors, like the English department's Eric Daigre, start courses by recognizing that classrooms and University buildings are on Dakota homeland. Others choose to include a statement in their syllabi or email signatures.

Additionally, departments such as American Indian Studies and the Institute for Advanced Study include formal statements that recognize the University's location on their websites.
Johnson added that an "attitude change" regarding Natives has led to "both federal and state governments [making] it more a part of their missions to include Indigenous voices in decision making."
MORE: U. Oklahoma student gov. resolution: Students 'visitors' on indigenous land
MORE: 'We want Columbus erased from history': Yale on Indigenous Peoples' Day
IMAGE: Sam Felder / Flickr.com
Like The College Fix on Facebook / Follow us on Twitter