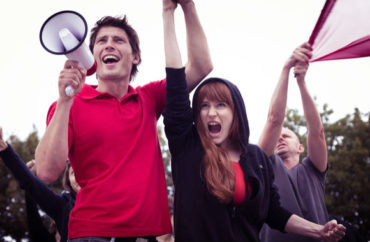 Law students at the University of New Hampshire held a class walkout on Wednesday over what they claim is the administration's failure to act on "transphobic" messages from a campus Christian group.
The students claim an "anti-trans" email from the Christian Legal Society, which invited community members to a vigil for the victims of the recent Nashville mass shooting, has made LGBTQ students "feel less safe."
According to New Hampshire Public Radio, the CLS email read "Tragically, this incident comes after a barrage of rhetoric demonizing Christians and anyone perceived to oppose the ontological premises of transgenderism." It also accused "activists, journalists and others" of  "fuel[ing] this hate and paranoia [against] anyone who opposes the trans agenda."
Protesters also took to task the student group Free Exercise Coalition for allegedly transphobic messages. Walkout organizer Hannah Neumiller said she wants UNH to "withdraw formal recognition" of both groups.
"I'm tired of waking up to headlines and acts of hate against the trans community, and then I have to come to school and see hateful messages against the trans community," Neumiller said.
MORE: UNT student government wants 'transphobic' clubs banned
In a statement Wednesday night, March 29, Erika Mantz, UNH's executive director for media relations, said the university is "stridently committed to the free and open exchange of ideas."

"Every member of our community has the right to hold and vigorously defend and promote their opinions," she said. "The exercise of this right may result in members of the community being exposed to ideas that they consider unorthodox, uncomfortable, controversial or even repugnant."

Mantz added that UNH is committed to ensuring "the safety and well-being of every member of our community while upholding the right to free speech."

"We mourn for the lives of six innocent victims in Nashville and we stand by and support members of the LGBTQIA+ community who have been maligned during a national conversation about this tragic event," she said.
Free Exercise Coalition President Jeffrey Ozanne said in response to the walkout "We are saddened by the response of our fellow students at a time when we should be united in grief over the senseless loss of life in Nashville."
Late last year, the Free Exercise Coalition had to threaten legal action in order to be recognized as an official student organization — as the UNH Student Bar Association had refused to approve it. The law group reportedly had characterized the FEC as "bigoted, subversive, oppressive, and a general 'problem.'"
MORE: Professor: 'More admirable' to kill 'transphobic' speakers than to shout them down
IMAGE: Photographee.eu / Shutterstock.com
Like The College Fix on Facebook / Follow us on Twitter