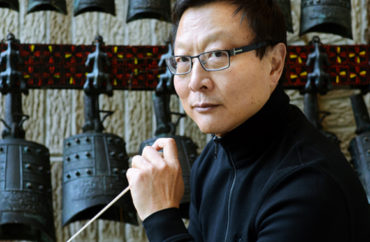 A famous classical music composer was ousted from a class he taught at the University of Michigan after students complained about being shown a 1965 film version of Shakespeare's "Othello" in class.
Bright Sheng, the Leonard Bernstein Distinguished University Professor of Composition at Michigan, stepped down after showing students the film, which featured actor Laurence Olivier in blackface in the role of Othello.
"I was stunned," Music, Theatre & Dance freshman Olivia Cook told The Michigan Daily student newspaper. "In such a school that preaches diversity and making sure that they understand the history of POC (people of color) in America, I was shocked that (Sheng) would show something like this in something that's supposed to be a safe space."
Cook told the paper students were given "no warning or contextualization" prior to the viewing.
David Gier, dean of the School of Music, Theatre & Dance, said Sheng's resignation would "allow for a positive learning environment" so students could focus on their "growth as composers."
"Professor Sheng's actions do not align with our School's commitment to anti-racist action, diversity, equity and inclusion," Gier said in a statement following Sheng's removal from the class.
Sheng was born in 1955, and began learning to play the piano at age four. At age 15, as a part of Mao Zedong's Cultural Revolution, he was sent to Qinghai and spent seven years as a pianist and percussionist in the provincial music and dance theater. He emigrated to America in 1982 and in 1999, he received a special commission from President Bill Clinton to create a new work honoring the visiting Chinese Premiere.
Sheng also composed music for the opening ceremony to the Beijing 2008 Olympic Games.
After showing the film, Sheng sent an email apologizing to students, saying the 56-year old movie was "racially insensitive and outdated." He also scrapped any plans to discuss or teach Othello.
"In a classroom, I am a teacher representing the university and I should have thought of this more diligently and fundamentally; I apologize that this action was offensive and has made you angry," Sheng wrote in a September 16 email. "It also has made me lost (sic) your trust."
"To show the film now, especially without substantial framing, content advisory and a focus on its inherent racism is in itself a racist act, regardless of the professor's intentions," wrote Evan Chambers, professor of composition, in an email to The Daily. "We need to acknowledge that as a community."
Sheng's apology email, however, caused even more problems, as students objected to a portion of the letter in which he listed people of color he has worked with in the past.
"Professor Sheng responded to these events by crafting an inflammatory 'apology' letter to the department's students in which he chose to defend himself by listing all of the BIPOC individuals who he has helped or befriended throughout his career," a September 23 letter of complaint by students reads. "The letter implies that it is thanks to him that many of them have achieved success in their careers."
The students have also asked that Sheng be permanently removed from teaching the seminar.
Read more here.
MORE: High school English teacher won't teach Shakespeare, says nonwhite students can't relate
IMAGE: Bright Sheng
Like The College Fix on Facebook / Follow us on Twitter