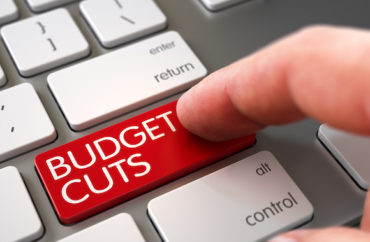 Despite protest, administration appears determined to follow through
The University of Vermont is planning to cut 12 majors and 11 minors in the College of Arts and Sciences, a move some faculty members are saying has left them "demoralized and afraid."
In a statement to faculty last week, College of Arts and Sciences Dean Bill Falls blamed the pandemic for the cuts, arguing that the drop in enrollment has "amplified" the school's structural deficit. The school released a document showing it faces a $27.9 million shortfall over the next three years.
The announcement has prompted protests from students and faculty, but a campus leader reiterated officials' decision this week.
"Even if we had not had the pandemic, we would have had to do this," university Provost Patricia Prelock told local reporters Monday.
"We need people to think about the larger university vision," she said. "Maintaining programs that are low enrollment is just not sustainable."
The College of Arts and Sciences makes up around 4,500 of the 12,000 students at the university.
VTDigger.org, a statewide news organization, reports that "all of the majors that are being terminated have graduated an average of seven or fewer students in the last three years, though many more students still enroll in their courses. Critics say the university's neglect of the humanities contributed to those low numbers in the first place."
But many faculty members disagree with cutting programs as a remedy for the shortfall.
"This does not seem to be a time for narrowing and retrenching," said Professor Jacques Bailly, director of graduate studies in the Classics Department, in an email to The College Fix.
"Yes, no good crisis should go to waste as an opportunity, but the cold use of COVID as cover to amputate some high quality programs is an impaired vision," Bailly said.
Bailly's Classics Department is one of the full departments the school is proposing to cut, along with religion and geology.
In addition, under the proposal the departments of Art and Art History, Music, and Theatre and Dance will be consolidated into a School of the Arts, and a number of departments related to language and culture will be condensed into School of Languages. The plan further proposes eliminating German and Italian language majors.
The Fix reached out to instructors in the language departments and all declined comment.
Among the minors proposed to be eliminated are Vermont studies, geology, gerontology, Greek, Italian, Italian studies, Latin, speech and debate, global and regional studies of Canada and Europe, and classics.
In his statement, Falls said the cuts "will not close the structural deficit in its entirety," but are instead "a critical first step in reaching an initial target of reducing expenditures by $5M by FY2023." He added that most of the cuts will come from faculty positions.
Falls did not return a request by The College Fix to comment for this story.
Bailly objected to framing the school's problem as merely a financial one, noting the school is "$24 million richer" this year due in large part to the growth in its $562 million endowment.
"We are told these cuts are to be made because of an $8.6 million dollar shortfall in the College of Arts and Sciences, but also that the cuts amount to about $800,000, and so we ask, will this possibly be enough?" Bailly said.
Bailly said the school's mission "is not to crank through and credentialize as many students as possible," saying Vermont should be "an institution which strives for excellence as much as it does to educate as many as possible."
"Excellence is the real currency, the thing that matters: all of these cuts undermine that in one way or another and offer nothing to compensate for it except, apparently, $800,000 dollars."
The cuts at Vermont are just the latest felt by small schools who were already facing increased competition from online schools before the Covid-19 pandemic even hit. Last year, the University of Tulsa proposed deep cuts in the humanities, instead shifting its focus to STEM-related majors that were engineered to earn students jobs after they graduate.
North Carolina's Guilford College, on the other hand, has gone the opposite way, cutting sciences while emphasizing majors in gender and sexuality studies and African and African American Studies.
Bailly said he is dismayed that the cuts run afoul of Vermont's explicit vision statement, which puts "comprehensive liberal arts" front and center.
"Surely I am not wrong to think that cutting out geology, religious studies, classics, and others is a significant narrowing of coverage," he said, adding, "We are told that introductory classes may still be offered in those areas, but it is hard to attract or keep great faculty without the advanced courses, and it certainly is not a feather in the cap of UVM for us to crow about."
"What is more, reducing the foreign language offerings to the level of a really good high school is just not worthy of a university," Bailly said.
"This demotes us: UVM has been, at times, called a 'Public Ivy.' I'm afraid it will be known as a decent regional place instead."
MORE: Protesters target UVM for 'white supremacy and anti-black racism'
IMAGE: Tashatuvango/Shutterstock.com
Like The College Fix on Facebook / Follow us on Twitter