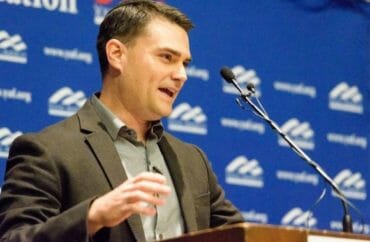 UPDATED
Ready to sue
Conservative pundit Ben Shapiro is slated to address a University of Pittsburgh audience for a Young America's Foundation event today.
But YAF is not happy about a late-arriving demand by the university, and it's threatening to sue.
In an email blast Wednesday, YAF said the taxpayer-funded university demanded $5,546.52 in security fees on Monday because of the "controversy" and "protests" they expect on campus, and would otherwise cancel the lecture.
These are "viewpoint-discriminatory and illegal considerations," and the Alliance Defending Freedom is ready to sue on YAF's behalf, it said.
It reproduced an email to Allie Chornick, facilities manager, that said Pitt Police Cmr. Robert Holler conveyed the security fee demand on Monday. YAF will pay the fee "in protest" but has retained the alliance to explore "all legal remedies including litigation."
YAF spokesperson Spencer Brown said the public university is emboldening the heckler's veto by charging "exorbitant security fees" in response to expected opposition to Shapiro:
This gives protestors the ability to determine who has free speech on campus and which viewpoints may be expressed. YAF's lecture with Ben Shapiro is scheduled for Wednesday night so we should know very soon whether the University wants to defend its viewpoint-discriminatory actions in court, or whether it will do the right thing and rescind this outrageous fee.
A Pitt spokesperson declined to comment on the alleged security fees demanded of YAF, but said the Shapiro event was "not common" in terms of "audience size, event location, and community access," and is being treated similar to events with political candidates.
"Pitt Student Affairs guidelines generally require speakers or performers to cover security costs," Joe Miksch, director of media relations, wrote in an email:
University Police and the Dean of Students determine security needs by evaluating factors such as anticipated audience size, location of the event, access level to the event (open to the University community, ticketed, invitation only), health and safety concerns, etc. Consistent with the First Amendment, the content and viewpoint of the speaker's or performer's message and the community's reaction or expected reaction to the event will not be considered when determining the security fee to be paid by the hosting organization.
The Fix has contacted Holler to verify his reported remarks.
UPDATE: Director of Media Relations Joe Miksch responded to The Fix after this article was published. His remarks have been added.
MORE: UCLA drops security fee demand for Shapiro after legal threat
IMAGE: Young America's Foundation
Like The College Fix on Facebook / Follow us on Twitter