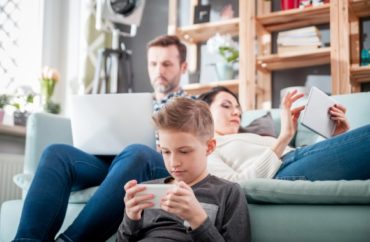 Americans are on the brink of a "digital experience addiction epidemic," according to a recent analysis done by Professor Pierre Berthon of Bentley University, who warns "we are addicted to our digital devices—or, more precisely, the digital experiences they enable."
"Addictive De-Vices: A Public Policy Analysis of Sources and Solutions to Digital Addiction," published in the Journal of Public Policy and Marketing, warns America is "in the early stages of what is likely to become a digital experience addiction epidemic."
That encompasses cell phone apps, video games, social media platforms — the "entire ecology of digital devices, media platforms and content," the professor said in an email interview with The College Fix last week.
Berthon, an information design professor, described digital addiction as the compulsive and detrimental over-use of digital devices such as cell phones and computers and associated social media, online games, dating apps, and other digital experiences.
The average teenager spends approximately nine hours a day on a digital device, while adults spend two hours a day on social media and five hours a day on their smartphones, according to the analysis.
While the "digital experience addiction epidemic" may be new, the reason for it may be as old as humanity — the need for escape, the professor said.
"The Buddha had it pretty much right: life is suffering (or at least suffering is existential)," Berthon told The Fix. "Thus, interactions that bring about an experience of escape from suffering are very compelling. Nothing new here, just changes in means."
The United States is not the only country that is struggling with this emerging epidemic. Countries such as China and South Korea, and countries in the Middle East, are also dealing with higher usages of digital devices, whereas countries in Europe have reported lower digital device usage, according to the analysis. Berthon told The Fix he believes this has to do with the culture, technology, infrastructure and individuals of the countries.
According to Berthon, who cites in his analysis an earlier study done by Dr. Daria Kuss and Dr. Olatz Lopez-Fernandez, the negative side effects of this addiction include four different categories: psychological, such as narcissism and low self esteem: physical, such as sleep disturbances and traffic accidents; social, such as relationship problems and impaired socialization; and economic, such as productivity and treatment costs.
Berthon said the reason digital device addiction is such a problem is because the goals of the marketer and of the user are misaligned and will continue that way unless a third party, such as the government, steps in.
"This is an emergent phenomenon, which was not planned in prospect and only understood in retrospect," Berthon told The College Fix. "Consumers are addicted to digital experiences; companies are addicted to business models that harvest consumer attention. All parties need to take responsibility."
He said his solutions include informing and educating the public on the addictive behaviors, highlighting their negative effects, redesigning the digital experience to minimize the addictive qualities, and restricting digital experiences at specific times and places.
For college students in particular, Berthon's ideas revolve around intentional awareness.
Student Courtney Davison, a senior at California Baptist University, said she agrees that Americans need to ease off their digital devices.
"There are a lot of things we miss when we have our noses in our phones," Davison told The College Fix. "We have a relentless need to constantly check our phones because we have this need for validation from other people. If people would validate each other in person I think the need for our phones would be a lot less."
Davison said she spends approximately six hours on her phone a day, less than the average teenager, but more than the average adult. Even after cutting herself off from social media a year ago, Davison said she had a relapse because her friends were on their phones so much.
While change does not occur overnight, Berthon said students can also limit the time they spend on the devices by setting specific goals and rules and using external devices and people to hold them accountable.
"The wonderful thing is that even as we are all affected, we are all agents that come up with innovative and empowering solutions," Berthon said.
MORE: Students, learn to put away your cell phones
IMAGE: Leszek Glasner / Shutterstock
Like The College Fix on Facebook / Follow us on Twitter