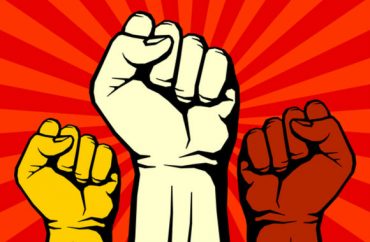 Left-wing organizations at the University of Virginia held its fourth annual "Disorientation" event Monday to enlighten new students about the campus's "history of radical activism" … and how to become a part of it.
Juan Zazueta, a member of U.Va. Students United and PLUMAS (Political Latinxs United for Movement & Action in Society) who helped organize the Disorientation, said the goal of the presentation was to "subvert the southern traditionalist culture of the University and of the brutal, unjust legacy but also highlight a radiant history of radical activism that continues today."
According to The Cavalier Daily, organizations in attendance included the Black Student Alliance, Central Americans for Empowerment, the Afro-Latinx Student Union, Asians Radicalizing Together, Students for Peace & Justice in Palestine, the Student Global AIDS Campaign, Young Democratic Socialists of America, and Jewish Voice for Peace U.Va.
Zazueta and Hannah Russell-Hunter complained to those assembled about the structure of the U.Va. Board of Visitors:
"Take note of their occupation and where they're located," the latter said. "No background of education whatsoever, these are all folks that are coming from the corporate side of things." Zazueta added "They're all members of a relatively small class of people, which governs the major institutions of society."
Freshman Oliver Nicholson told the Daily it was a "struggle" to find groups which interested him at August's (more mainstream) Grounds at the Student Council fair:
"The student fair thing was set up like,'Oh, find your club', but then all the political clubs that also happened to be like the most liberal and disruptive are in this tight packed tent instead of also spread out on the Lawn," Nicholson said. "They really tried to set us up to not understand this. So yeah, it was very hard. I'm very happy that I'm here."

Nicholson also spoke about how Disorientation gave him a new perspective on how the University responds to racism and injustice on Grounds.

"Coming here, I realized that it's not doing nearly enough," Nicholson said. "It's more trying to put on a facade than actually address all the issues, trying to make the appearance that, 'Oh, we're all about change,' when really only doing incremental things."
On the PLUMAS Facebook page, a recent post advertises a screening / discussion about the documentary The Feminist on Cellblock Y at which a former prison inmate will chat about his efforts at "dismantling patriarchy from the inside using the stories and words of its incarcerated leadership."
Read the Cavalier Daily article.
MORE: Tufts student-made 'disorientation' guide calls Israel 'white supremacist state'
MORE: 'Disorientation guide' tells blacks Penn is 'made up of people who hate you'
IMAGE: MicroOne / Shutterstock.com
Like The College Fix on Facebook / Follow us on Twitter