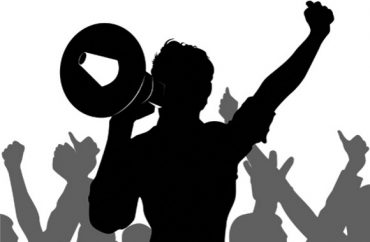 Various University of Wisconsin student groups assembled an "emergency rally" on Tuesday to protest the Trump administration's actions against the so-called migrant "caravan" which included demands to abolish Immigration and Customs Enforcement and even our national borders.
The rally's participants, which featured the Young Democratic Socialists of America and the International Socialist Organization-Madison (surprise!), said the use of tear gas against the migrants by border patrol officials was "unacceptable."
"The nature of this attack shows the utterly callous disregard for the lives and wellbeing of people of color from Latin America," [Socialists Alternative's Nick] Puetz told The Badger Herald.
The student paper Daily Cardinal's article on the protest reads less like a report and more like sympathetic short story. Authors Lauren Souza and Robyn Cawley begin their piece with "Empowered voices and heavy hearts carried on the chant, 'no one is illegal, refugees are people'" … and that's merely the beginning:
"On the heels of another vicious migrant attack in Tijuana …"
"Plumes of heated breaths from about 50 protesters linked messages of immigrant supporters …"
"… the sound of stomping feet and echoed chants filled the heart of Madison."
"Retellings of the brutal realities were designed to lift up their stories …"
From the article:
This served as a call for "a united movement to demand amnesty for all immigrants and end the criminalization of crossing imaginary lines, known as borders," according to […] Puetz …

"We want to build solidarity, not just today for this caravan, but also for all migrants," said Thomas Scheevel, a member of the International Socialist Organization. "We believe that it is the right of all people to travel and live where they wish. We are against borders."

In 2009, the U.S. supported a coup that destabilized Honduras, resulting in high rates of femicide and the murdering of transgender individuals.

This led to families being tear-gassed along the California border while U.S. agents maintained crowd control by firing weapons at them. The warfare of tear gas is banned in nearly every country, notably the U.S.

"Though it's coming from outside the U.S., the causes of this migration are very much from here," Scheevel said.

U.S. policy continues to blame Honduran refugees, but in reality, they are the victims, noted Sari Hattis, co-chair of the Young Democratic Socialists of America.
Unsurprisingly, neither the Badger Herald nor the Daily Cardinal mention the previous — Obama — administration's use of tear gas some eighty times at the border. 
Read the full Badger Herald and Daily Cardinal articles.
MORE: Campuses embrace illegal immigrants
MORE: Illegal immigrants demand counselors, sensitivity training
IMAGE: Shutterstock.com
Like The College Fix on Facebook / Follow us on Twitter